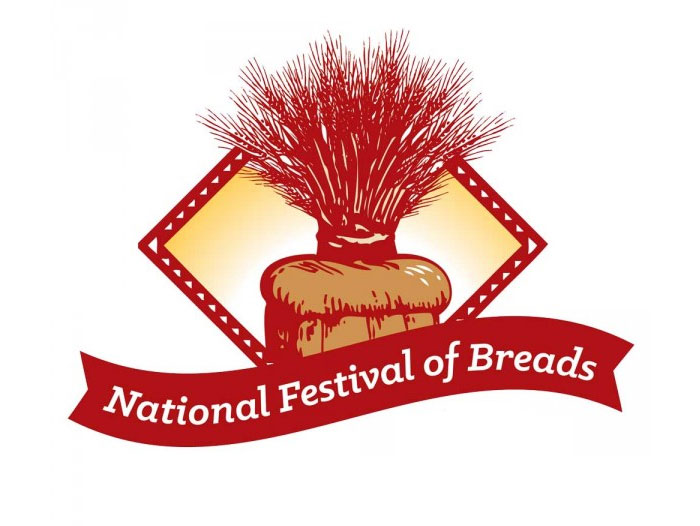 A panel of judges has selected the final recipes that will be represented in the eighth National Festival of Breads, sponsored by King Arthur Baking Company® and Kansas Wheat. This year's virtual event is scheduled for June 1, 2023.
"The National Festival of Breads celebrates the creativity of America's home bakers," said Cindy Falk, co-chairperson of the event and nutrition educator for Kansas Wheat. "Join us on June 1 from the comfort of your home as we share the stories behind our finalists' winning recipes and announce who will be America's next top bread baker."
Four finalists have been named for the biennial National Festival of Breads, the nation's only national amateur bread-baking competition. In addition to the four finalists, the judges also selected 23 Honorable Mention Awards. Finalists and award recipients represent states from coast to coast.
Finalists include Marian Evoniuk, from Austin, Texas, with her Mocha Coffee Pecan Babka in the Go Nuts category; Carol Adamek, from Dallas, Texas, with her Nutty Pumpkin Cranberry Dinner Rolls in the Quick & Easy category; Susan Wiebe, from Pittsburgh, Pennsylvania, with her Knotty 7 Grain Rolls in the Wholesome & Healthy category; and Gloria Piantek, from West LaFayette, Indiana, with her Cheese Lover's Barbecue Bread Twists in the Say Cheese category.
Nutty Pumpkin Cranberry Dinner Rolls
Cheese Lover's Barbecue Bread Twists
Want to help select a winner? Vote for the People's Choice Award on our Facebook page at facebook.com/NationalFestivalOfBreads/ between May 15 and May 26.
Vote for People's Choice Award Winner
Honorable Mention Awards
Twenty-three entries received Honorable Mention awards from the judges.
In the Say Cheese category, honorable mentions include Everything Gouda Rolls, Pamela Gelsomini, Miami, Florida; Twisted Double Cheese and Zucchini Loaf, Susan Bickta, Kutztown, Pennsylvania; Marble Rye and Swiss Cheese Bombs, Michele Kusma, Columbus, Ohio; Rustic Blueberry Goat Cheese Sweet Rolls with Vanilla-Lime Icing, Sarah Meuser, New Milford, Connecticut; Savory No-Knead Pimento Cheese Rolls, Barbara Estabrook, Appleton, Wisconsin; and Sweet Potato Cheddar Chile Rolls, Carol Adamek, Dallas, Texas.
In the Wholesome and Healthy category, honorable mentions include Ginger-Molasses Wheat Bread, Roseanne Cohen, Pittsburgh, Pennsylvania; Finnish Setsuri Bread, Elise Lalor, Issaquah, Washington; Flaxseed Bread with Cherry and Almond Filling, Fay Moreland, Wichita Falls, Texas; and Fresh Blueberry Buttermilk Laced Loaf, Katharine Breece, San Diego, California.
In the Quick and Easy category, honorable mentions include Italian Nutty Crusted Breadsticks, Donna-Marie Ryan, Topsfield, Massachusetts; Morning Star Rolls, Renata Stanko, Lebanon, Oregon; Wasp Nests, Zorica Sarmiento, Colorado Springs, Colorado; "Bleu" Berry Thyme English Muffin Bread, Carmell Childs, Clawson, Utah; Citrus Cranberry Pistachio Quick Bread, Andrew Schoeffield, Towson, Maryland; and Two Way Pineapple Sweet Potato Bread, Marilyn Blankschien, Clintonville, Wisconsin.
In the Go Nuts category, honorable mentions include Brown Butter Baklava Sticky Buns, Janet Gill, Canton, Ohio; Nutty Baklava Cruffins, Renee Conneally, Northville, Michigan; Five-Spiced Walnut and Honey Baklava Tea Ring, Lanie Smith, Topeka, Kansas; "Go Nuts" Sticky Cinnamon Rolls, Barbara Estabrook, Appleton, Wisconsin; Pumpkin Walnut Bread with Brandied Currants, Mary Kay Allen, Tucson, Arizona; German Fudge Wunder Rolls, Gloria Piantek, West Lafayette, Indiana; and Nutty Peanut Butter Cinnamon Braids, Wilma Olds, Wilson, Kansas.
The Festival
The virtual festival will premiere on June 1. Like the National Festival of Breads Facebook page or sign up for the festival's newsletter to stay up-to-date on event details, connect with other attendees, and get notified when the event goes live on June 1, 2023, at 3:00 p.m.
Then join the event premiere to hear from the finalists and sponsors and find out who will be crowned the "Best of Breads" Champion in America's bread baking championship.
Learn more at FestivalofBreads.com.