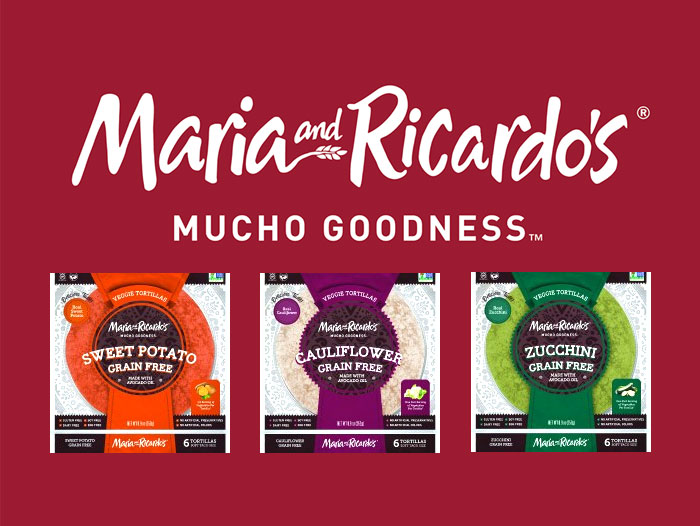 CANTON, Mass. – Health professionals have always encouraged people young and old to eat their vegetables. While it can be challenging to keep up with the suggested daily servings, Maria and Ricardo's, a manufacturer of high-quality, non-GMO tortillas, has made it easier today with the launch of three new grain-free veggie tortillas– Cauliflower, Sweet Potato and Zucchini. They can be found now online on Amazon.com.
Cauliflower Grain-Free and Zucchini Grain-Free offer a full serving of vegetables in every tortilla, and Sweet Potato Grain-Free offers a half serving. They're made with a unique blend of avocado oil and tapioca flour and there are six, eight-inch tortillas in every package. All three varieties are:
Made with real vegetables
Grain-free, dairy-free, soy-free, egg-free, and Certified gluten-free
Non-GMO Project Certified and Vegan
Free from artificial colors, flavors or preservatives
110 calories per tortilla
"Our new grain free veggie tortillas are made with the finest ingredients including real vegetables which packs them with amazing flavor and texture," said Ezequiel "Cheque" Montemayor, Chief Executive Officer of Maria and Ricardo's Tortillas. "Paired with your favorite filling, they're a delicious way to add vegetables to any meal, especially for consumers looking for gluten free or grain free alternatives."
Maria and Ricardo's tortillas are inspired by the company's deep Mexican roots and baked with the finest non-GMO ingredients to provide superior taste, texture and performance for mucho goodnessTM in every tortilla. There are more than 20 tortillas to choose from…providing consumers with options no matter the size, flavor or type of tortilla they're looking for.
The full Maria and Ricardo's tortilla line along with some ingredient information can be accessed here.
About Maria and Ricardo's
Maria and Ricardo's makes high-quality tortillas using real, simple and wholesome ingredients. The company was founded in 1986 by cousins Maria and Ricardo, who were one of the first of their time to believe that the best-tasting tortillas came from using natural ingredients resulting with the cleanest recipe possible. While Maria and Ricardo are no longer part of the company, it has always remained in the hands of Mexican families who have a passion for delicious, real and simple tortillas and Mexican foods. Today, the company is owned by and operates under the leadership of the Montemayor family, who have a long history of manufacturing high-quality and delicious tortillas. Their passion for bringing Mexico's vibrant food culture to the US market is evident in every package of Maria and Ricardo's tortillas. Maria and Ricardo's is one of several brands in the Harbar LLC portfolio and is based in Canton, Massachusetts. More information on the company can be found on MariaandRicardos.com as well as Instagram and Facebook.