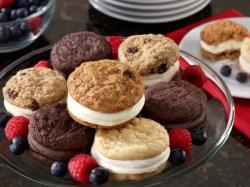 BUFFALO, N.Y. – When it comes to desserts, there is no shortage of new-product ideas that quickly come and go, much to the chagrin of hopeful in-store bakery operators. For those businesses trying to make sense of the current hodgepodge of trends in the dessert marketplace, Rich Products Corporation has cleverly created a lineup of "mini-hybrid" treats that possess many of the qualities consumers want most from their sweet goods.
For this inventive dessert project, instead of getting caught up in one impulsive fad, Rich's focused on three larger consumer preferences – for mini desserts, hybrid desserts and natural/no-artificial-ingredient desserts. The company then combined the best elements from each of the concepts into the development of one sensational creation: Our Specialty Sweet Middles – mini-hybrid cookie sandwiches sure to be a hit with shoppers.
Featuring smooth and creamy frosting sandwiched between two soft cookies, Sweet Middles are available in four flavors: Carrot Cake, Chocolate Soufflé, Crème Brûlée, and Oatmeal Raisin Crisp.
Perfect for All Occasions
Sweet Middles are quick, easy and delicious treats that can satisfy a sweet tooth with just a few bites. Their miniature size and decadent dessert-inspired taste make them the perfect options for gifting and party-going. Available in six- and 12-count packages, the cookie sandwiches are fully finished and ready to eat – no preparation required.
In addition to their sweet and creamy taste, Sweet Middles give shoppers the opportunity to revel in upscale, restaurant-style indulgences – like Crème Brûlée and Chocolate Soufflé – at everyday prices. The mini desserts are convenient enough to enjoy on the go, but they still pack the same satisfying flavor as full desserts.
"Sweet Middles are a fantastic example of innovation achieved by drawing from what already exists, and creating something novel with it," remarked Courtney Erickson, Rich's Associate Marketing Manager, Customer Shopper Marketing, In-Store Bakery & Deli Division. "By pinpointing the best qualities from a choice of popular flavors and current dessert trends and incorporating them into a new idea, we've created a family of delicious sweet goods that suits a variety of consumer desires and needs.
"Our research found that most people enjoy high-end desserts, but the convenience factor just wasn't there for everyone," Erickson added. "The combination of flavors in all Sweet Middles products provide the indulgence consumers seek with the portability and ease found with individually-packaged desserts."
Satisfying the Nut-Free Needs
Sweet Middles are peanut- and tree nut-free and do not contain artificial colors, artificial flavors or high fructose corn syrup – a distinctive combination of characteristics that sets this line of desserts apart from other offerings. "Attention to nut-allergies is higher than ever, which means the demand for certified snacks and desserts has significantly increased," Erickson said. "Thanks to Our Specialty Sweet Middles, consumers – whether nut-free or not – can indulge without concern."
Sweet Middles boast a 10-day ambient and refrigerated shelf life. Packages (six-count or 12-count) range in price from $2.99 to $6.49. More information can be found at ourspecialty.com/sweetmiddles.
###
About Rich Products Corporation
Rich Products Corporation is a family-owned, global food company defined by innovation and an unparalleled commitment to treating its customers, associates and communities the same way…Like Family. Since 1945, Rich's has been committed to developing food solutions that raise the standards for quality, safety, convenience and efficiency for its customers. As a leading supplier to the global foodservice, in-store bakery and retail marketplaces, Rich's posts annual sales exceeding $3.1 billion, operates 34 manufacturing facilities spanning six continents, and employs more than 9,200 people across the world. Additional company information can be found online at richs.com, on Facebook , via Twitter and via LinkedIn.
About Rich's In-Store Bakery & Deli Division
Often called "the brand behind the baker," Rich Products Corporation for 70 years has delivered innovative and delicious products that can transform everyday bakery experiences into memorable celebrations. The company's extensive line of award-winning breads and unique, on-trend desserts and sweet goods ensures that customer bakery offerings will exceed the demands of today's shoppers and create a loyal fan base for tomorrow's purchases. Rich's products are prepared with the finest ingredients and made by experienced associates who live Rich's motto of "caring for customers like only a family can." The company's In-Store Bakery & Deli Division is located in Buffalo, N.Y.
Source: Rich Products Corporation