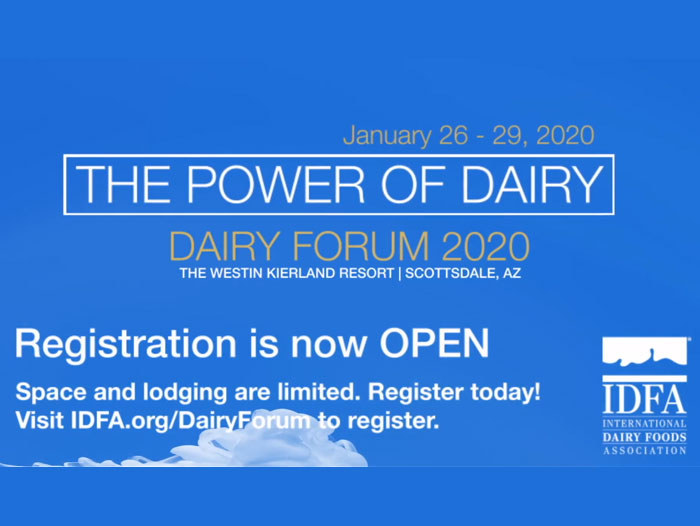 WASHINGTON —The International Dairy Foods Association (IDFA) is pleased to announce that registration for Dairy Forum 2020 opens today.
IDFA's Dairy Forum is the premier event for dairy food executives to advance their knowledge, connect with other industry leaders, and discover new perspectives on issues that are important to the dairy industry. More than 1,000 dairy leaders are expected to convene at Dairy Forum 2020 to explore, discover, and experience the POWER OF DAIRY.
Please visit www.idfa.org/dairyforum to register for Dairy Forum 2020 and to reserve your room at the Westin Kierland Resort in Scottsdale, Arizona. Registration for Dairy Forum is required to reserve a room at this hotel. Book your hotel early—rooms and space are limited for January 26-29, 2020.
"Dairy Forum 2020 is a celebration of the Power of Dairy," said Michael Dykes, D.V.M., president and CEO of IDFA. "Dairy is a nourishing, sustainable food that delivers unparalleled health and consumer benefits, advances environmental stewardship, and powers economic growth. As the largest dairy member association in the world, IDFA is proud to offer Dairy Forum 2020 to our industry's innovators and thought leaders, as well as those looking to gain knowledge and cultivate relationships."
Dairy Forum 2020 will help us unlock the POWER OF DAIRY to seize opportunities and navigate challenges in our industry. The 2020 program is filled to the brim with thought leaders, renowned experts, and industry leaders. These leaders will share their insights and perspectives on a wide variety of relevant topics to advance dairy's growth and prosperity in the years ahead.
Sessions include:
· Leadership for the 21st Century
· How to Turn Challenge into Opportunity & Disruption into Competitive Advantage
· Economic Forecast For 2020 from Leading Dairy Economists
· The New Corporate Citizen: Social Responsibility, Business Ethics & Accountable Capitalism
· Geopolitical Landscape: What Is Happening in the World & Why Does It Matter to Your Business?
· Trade Update
· Redefining Sustainability in the Dairy Industry
· C-Suite Talks
· McKinsey & Company Trends Analysis
· And much more!
Sponsorship Opportunities
To learn more about sponsorship opportunities at Dairy Forum 2020, please visitwww.idfa.org/dairyforum or contact Melissa Lembke, mlembke@idfa.org.
Keynote Speakers
Dairy Forum 2020 has an amazing lineup of keynote speakers, and many more will be announced as they are confirmed.
Peter Bergen, CNN National Security Analyst & Best-Selling Author of Manhunt
Michael Dykes, D.V.M., President and CEO, International Dairy Foods Association
Jeff Eggers, Organizational Performance Expert & Executive Director, McChrystal Group Leadership Institute
Marci Rossell, Former Chief Economist for CNBC & Co-Host of Squawk Box
Peter Sheahan, Best-selling Author & Founder and CEO, Karrikins Group
Hotel Information
Dairy Forum 2020 will be held at The Westin Kierland Resort in Scottsdale, Arizona, January 26-29.
As noted, registration for Dairy Forum is required to reserve a room. To register and to learn more about Dairy Forum 2020, please visit www.idfa.org/dairyforum. Once registered, you may make your hotel reservations online or directly with the hotel by calling (800) 354-5892.
# # #
The International Dairy Foods Association (IDFA), Washington, D.C., represents the nation's dairy manufacturing and marketing industry, which supports more than 3 million jobs that generate $159 billion in wages and $620 billion in overall economic impact. IDFA's diverse membership ranges from multinational organizations to single-plant companies, from dairy companies and cooperatives to food retailers and suppliers, all on the cutting edge of innovation and sustainable business practices. Together, they represent 90 percent of the milk, cheese, ice cream, yogurt and cultured products, and dairy ingredients produced and marketed in the United States and sold throughout the world. Delicious, safe and nutritious, dairy foods offer unparalleled health and consumer benefits to people of all ages.