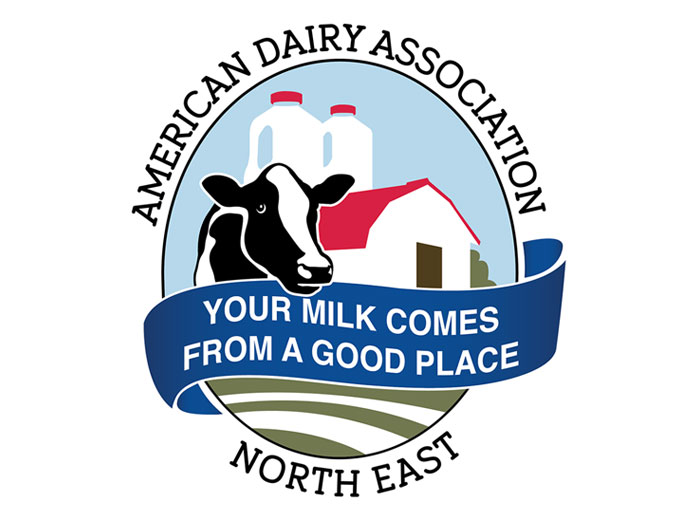 SYRACUSE, N.Y. – Dairy farmers from Maryland, New York and Pennsylvania participated in a social media "take over," hosted by American Dairy Association North East and the Alliance for the Chesapeake Bay this week. During a live, one-hour conversation, the farmers discussed their environmental practices to protect local water quality and to protect their downstream neighbors.
Participating farmers included Katie Dotterer-Pyle of Cow Comfort Inn Dairy in Union Bridge, Md.; Mike McMahon from E-Z Acres Farm in Homer, N.Y.; and Chris and Laura Landis of Worth the Wait Farms in Stevens, Pa.
"We have a responsibility, when you farm in an environmentally sensitive area, to protect it, and our first concern is the neighborhood around us," said McMahon. "And even though we're 250 miles away from the Bay, preservation starts here."
The panel discussion was facilitated by Alliance for the Chesapeake Bay Chief Executive Officer Kate Fritz and ADA North East Director of Environmental Outreach Ron Ohrel.
"Collaborating with environmental partners helps build trust in our dairy farmers' on-farm practices and in their commitment to stewardship," said Ohrel. "It's important for us to be involved in these conversations and to share our positive stories as consumers express more and more interest in sustainability and responsibly-produced foods.
"Farmers are environmental stewards, and they always have a great story to tell."
To hear the conversation and to see individual farm videos featuring the three participating farmers, click here, or visit AmericanDairy.com, and click on "Your Local Dairy Farmers – A Sustainable Story" under Dairy Diary.
###
About American Dairy Association North East
American Dairy Association North East (ADA North East) is the dairy farmer-funded organization funded by participating dairy farmer's checkoff investment to build demand and sales for milk and dairy foods throughout the local region. Representing nearly 10,000 dairy farm families in Delaware, Maryland, New Jersey, New York, Pennsylvania and northern Virginia, ADA North East develops and implements local programs to drive milk and dairy sales at retail outlets and in schools. The organization also conducts consumer education about dairy through events, traditional and social media, and in collaboration with health professionals through National Dairy Council®. ADA North East works closely with Dairy Management Inc.™, the national dairy checkoff organization, to support nutrition research, national partnerships and developing export markets for dairy to bring a fully integrated promotion program to the region. For more information, visit www.AmericanDairy.com.