Elkmont, Alabama – Belle Chevre's spreadable Fig goat cheese has been recognized for its superior quality as a 2023 sofi™ Gold Product Award Winner in the Cheese – Non-Cow Milk, Mixed Milkcategory by the Specialty Food Association. The brand's Fig chèvre is noted for its creamy texture and taste, with a natural sweetness from the real fig paste which balances the tangy goat cheese. 
"We're incredibly honored to have won the gold award for our spreadable fig goat cheese," begins Pierre Guérin, co-owner and Director of Sales & Marketing, Belle Chevre, Inc. "Admittedly, fig has been one of our best-selling flavors for a while. Its honey-like sweetness has a subtle hint of berry which, together with the zing of chèvre, is loved by everyone who tastes it," Guérin adds. "While fig is a unique flavor in the goat cheese category, our product is appreciated by goat cheese aficionados as well as those who say they're not a fan of chèvre."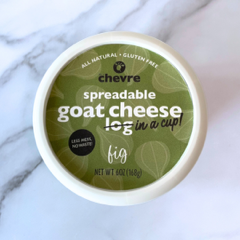 Belle Chevre recently repositioned its spreadable goat cheese as a 'log in a cup' and updated its packaging graphics to reflect that change. The brand's line of products in a 6-oz. resealable cup – available in Fig, Honey, and Original – will start appearing in stores this summer.
In addition to Belle Chevre's Fig chèvre being one of only 53 Gold winners of the nearly 2,000 products entered into the 2023 Specialty Food Association competition, Belle Chevre's Greek Kiss won a Silver at the 2022-2023 World Cheese Awards while its sister brand, CHEVOO, earned a Gold medal at that same competition.
About Belle Chevre:
Belle Chevre has been handcrafting traditional and original goat cheeses since 1989, combining time-honored European cheesemaking techniques with an innovative approach. Belle Chevre's artisan chevre and cream cheese-style spreads are mild yet distinct in taste and texture, reflecting the care with which they are made for the contemporary cheese lover. To learn more about Belle Chevre, visit https://www.bellechevre.com. For more information on CHEVOO, visit https://www.chevoo.com.