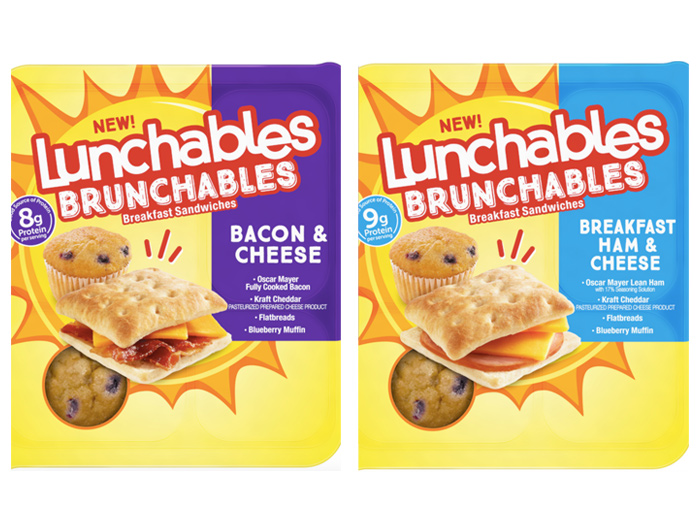 PITTSBURGH & CHICAGO- Say "goodbye" to boring breakfast. Today, Lunchables,the brand known for bringing mixed-up fun to mealtime, is ushering in a new era of breakfast with the launch of Lunchables Brunchables.
Lunchables Brunchables bring some much-needed fun and innovation to the breakfast table, letting kids (and adults) build their own breakfast sandwiches complete with ingredients like ready-to-eat bacon strips, cheese, breakfast flatbreads and a mini blueberry muffin to top it off.
"Lunchables always likes to excite adults and kids alike with options that bring mixed-up fun to lunchtime, and we wanted to extend that mission to breakfast," said Zach Meyers, director of marketing, Kraft Heinz. "For years we've seen fans ask whether or not Lunchableswould create a breakfast version. We're excited to finally unveil Brunchables, an exciting new choice at breakfast that helps start kids' days off right."
After a teaser image the brand shared on Twitter yesterday, today Lunchables is confirming that Brunchables is not an April Fools' joke. Beginning today through April 4, fans can put their name on the only brunch waitlist worth waiting for at brunchablesisreal.com. One hundredlucky people will be randomly selected to get the exclusive first taste of Lunchables Brunchables before they hit select stores in April.
This new offering comes in three varieties: Bacon & Cheese, Breakfast Ham & Cheese and Breakfast Sausage & Cheese. Fans can find Brunchables at select retailers nationwide. Brunchables SRP is $1.99/pack.
For more information, visit Lunchables Brunchables online at www.LunchablesParents.com, and on social media (Facebook.com/Lunchables, @TheRealLunchables on Twitter and @Lunchables on Instagram).
About The Kraft Heinz Company
For 150 years, we have produced some of the world's most beloved products at The Kraft Heinz Company (NASDAQ: KHC). Our Vision is To Be the Best Food Company, Growing a Better World. We are one of the largest global food and beverage companies, with 2018 net sales of approximately $26 billion. Our portfolio is a diverse mix of iconic and emerging brands. As the guardians of these brands and the creators of innovative new products, we are dedicated to the sustainable health of our people and our planet. To learn more, visit http://www.kraftheinzcompany.com/ or follow us on LinkedIn and Twitter.