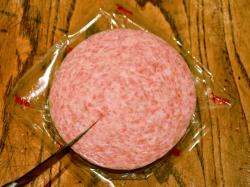 Pork roll is finally getting its due, including a luxury makeover by the charcuterie pro who conceives and crafts high-end sausages and deli meats for Whole Foods Markets.
On the heels of the first-ever New Jersey Pork Roll Festival last May in Trenton, Whole Foods has introduced what could be called an artisanal version of the beloved mystery meat also known as Taylor ham. And an upgrade that's made from grass-fed, antibiotic-free pork could be considered another milestone for this state treasure and diner staple.
For outsiders, the classic pork roll is typically sliced thick or thin and pan-fried to a crisp with knife slits to flatten the edges. Have it on a roll with egg and cheese, or a plate with eggs, hash and toast.
To read the rest of the story, please go to: The Star-Ledger