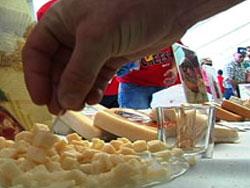 MADISON, Wis. Nearly 700 cheese enthusiasts from across the country are headed to the First Annual Wisconsin Original Cheese Festival at the Monona Terrace in downtown Madison on Nov. 6-7. Attendees will meet more than 30 Wisconsin cheese makers and taste 150 of the states finest artisan, farmstead and specialty cheeses.
The sold-out, two-day festival features a variety of events, including a Friday night Meet the Cheesemaker Gala Reception, Saturday morning guided tours and afternoon educational seminars, and a Saturday evening Artisan Cheesemaker Dine Around. All advance tickets were sold with two weeks of going on sale in August.
Hosted by Wisconsin Cheese Originals, a new member-based organization dedicated to celebrating Wisconsin artisan and specialty cheesemakers, the festival is intended to be a premier destination for cheese enthusiasts and food buyers from across the nation, says Jeanne Carpenter, executive director.
I am astounded at the response from people across the country who purchased hundreds of tickets, just to meet our Wisconsin cheesemakers and taste their cheeses. What an amazing testament to the quality of our dairy industry, Carpenter said. Theres no doubt in my mind that this will become an annual event, which will only grow in size and attendance. Its very exciting.
Festival events include a Friday Night Meet the Cheesemaker Gala Reception, where attendees will meet 31 Wisconsin cheesemakers and taste 150 different Wisconsin original cheeses. On Saturday morning, participants will either take a private coach bus tour of Green County cheese factories, or partake in a personal guided tour of the largest producer Farmers Market in the nation, with lunch at Fromagination on the Capital Square.
Saturday afternoon features a stunning line-up of six seminars at Monona Terrace, including wine, beer & cheese pairings, the art of crafting cave-aged and pasture-grazed cheeses, and the science behind stinky cheeses. Wrapping up the two-day event will be six Artisan Cheesemaker Dinners at participating Madison Originals restaurants, where each chef is partnering with a local cheesemaker and hosting a one-of-a-kind three-course dinner. Attendees will join the featured cheesemaker at a private table for 12.
Additional sponsors and partners of the First Annual Wisconsin Original Cheese Festival include: BelGioioso Cheese, Dairy Business Innovation Center, Fromagination, Madison Originals, Wisconsin Milk Marketing Board, and World Import Distributors.
Source: Wisconsin Cheese Originals