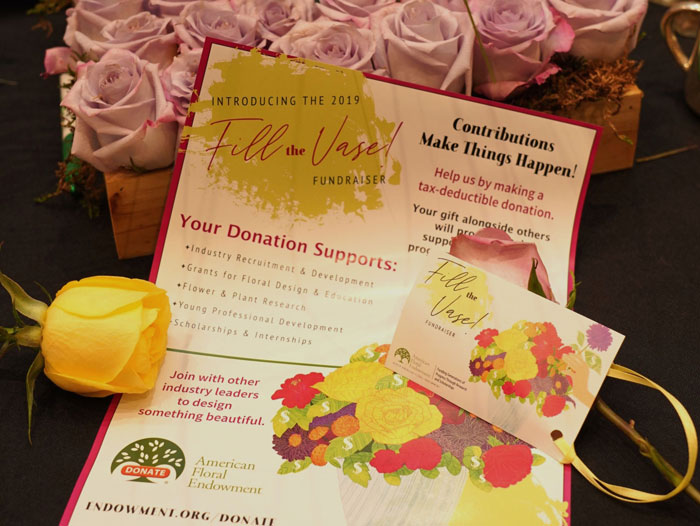 The AFE 43rd Annual Fundraising and Recognition Dinner was held during the SAF Annual Convention in Amelia Island, Florida on Thursday, September 19, 2019.
The evening was full of excitement as AFE reported on program and research success stories. Two new named funds (The Retail Florist's Continued Education Fund Sponsored by Bob and Carol Sharpe and The Garcia Family Fund) were announced and donors reaching new giving-levels were recognized.
During the evening, AFE reported on meeting the $1.5 million goal for The Thrips and Botrytis Research Campaign and also on the new consumer marketing studies funded by the Floral Marketing Research Fund (FMRF.)
The highlight of the evening was AFE's "Fill the Vase" campaign. This campaign was created on the concept of individual flowers coming together to make a beautiful, full vase; individual industry members coming together to make a difference in the industry's future by making a contribution to AFE of any amount.
During the dinner, every attendee received a single rose. Each rose represented the person filling the seat — a member of the floral industry. The industry really came together as the attendees placed their roses tied with their donation cards into a vase, to create beautiful arrangements.
Tim Noble, President of Hortica Insurance announced a gift match for the first $5,000 donated as a part of the dinner contributions! Dr. Marvin Miller of Ball Horticultural Company quickly followed suit on behalf of Ball to meet and even raise their match to $6,000.
Both the matches were met, and in total over $41,000 was pledged as a part of the Fill the Vase campaign in just one night.
The Fill The Vase fundraising campaign will continue through December, so even if you weren't there, you can still help fill our metaphorical vase by making a donation at endowment.org/donate.
Smithers-Oasis/Floralife announced their commitment to a third-year gift-match of $20,000 for AFE's year-end campaign. Help us reach this goal!
AFE also announced new Officers and Trustees to the Board. Randy Tagawa of Tagawa Greenhouses will serve as Secretary/Treasurer as Laura Shinall of Syndicate Sales moves into her new role as Chairman-Elect.

Dr. Megan Bowman of Ball Horticultural Company and Gustavo Gilchrist of Kennicott Brothers Company were welcomed as new members of the AFE Board. Dr. Marvin Miller of Ball Horticultural Company and Ken Altman of Altman Plants were honored as they completed their term on the Board.
More than 45 industry organizations served as sponsors of this year's event that helped offset dinner expenses. AFE is grateful for all sponsors and attendees for making this year's event a success.
For more information, sponsor list, or photos from the event, visit endowment.org.
About AFE
The American Floral Endowment is a nonprofit organization dedicated to advancing the floriculture and horticulture industry through funding research, educational grants and scholarships. Since 1961, more than $16 million has been funded in research and educational projects, and more than $3 million has been funded in scholarships and internships designed to attract and retain the future leaders of the industry. To learn more about AFE or how you can support floriculture programs, visit www.endowment.org.