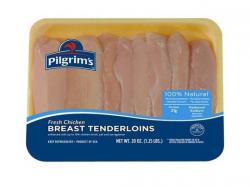 Pilgrim's Pride is planning a major push into organic chicken production, aiming to capture the segment's fatter profits and rising sales following a tough patch for poultry firms.
The move would make the Greeley-based meatpacking giant one of the largest producers of organic chicken in the U.S. at a time when growth in conventional chicken is being outpaced by poultry raised without antibiotics and fed organic grain, executives said.
"Traditional chicken has experienced fairly tepid growth over the last few years," said CEO Bill Lovette, speaking on a conference call discussing first-quarter earnings. "This is about our participating in an area that's growing more rapidly."
To read the rest of the story, please go to: Dow Jones Newswires