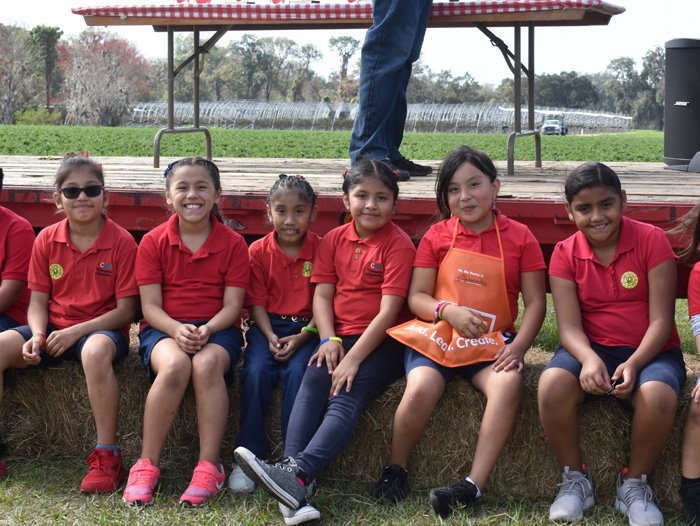 PLANT CITY, Fla. – The Strawberry Picking Challenge presented by Monte Package Company raised over $90,000. The annual charity event, now in its sixth year, raises funds that benefit the children of the Redlands Christian Migrant Association (RCMA).
The event featured 20 corporate-sponsored teams competing in an exciting relay-style strawberry-picking race. Publix, International Paper, Farm Credit of Central Florida and Amalie Oil were just a few of the generous organizations that contributed to make the event an inspiring success. Local strawberry growers cheered on competitors and coached the corporate teams through the picking challenge. Local first responders even fielded teams. Two of the teams featured Hillsborough County Fire Rescue firefighters and Hillsborough County Sheriff's Office deputies.
Ultimately, the Florida Fruit & Vegetable Association (FFVA), coached by Kane Hannaford from G&D Farms, was crowned 2019's "Best Harvest Crew." FFVA is the newest team to have its name inscribed on the "Strawberry Joe Trophy" which is held each year by the winners to celebrate their victory until they must pass it on to the next year's champions.
In addition to the sponsor brackets, local strawberry growers nominated their best harvesters to battle it out in a professional picking competition. A total of $800 was awarded to these master pickers.
The day-long event began with the Pledge of Allegiance led by a group of students from RCMA Wimauma Academy who also performed the "Star Spangled Banner" and "Grand Old Flag". There was a charity u-pick open to the public and other family-friendly fun like a strawberry shortcake eating contest, balloon artists, games, music, and even a special appearance by the Florida Strawberry Festival Queen and Court. The crowd was also treated to a performance by N.R.G., "Next Radical Generation," a Plant City youth singing group.
All proceeds from the Strawberry Picking Challenge benefit Redlands Christian Migrant Association, a non-profit that operates child-care centers and charter schools serving Florida's low-income, rural population, particularly the children of agricultural workers. Wish Farms is a long-time supporter of RCMA. Since the event began in 2014, the Strawberry Picking Challenge has donated a total of over $513,000 to the children of RCMA.
"The turnout was our best yet with an estimated 2,500 attendees," said Gary Wishnatzki, owner of Wish Farms. "This event brings the community together to celebrate the Florida strawberry season and show our appreciation for the dedicated farmers and field workers. We are grateful to support RCMA and the important work they do for our industry."
To view the Strawberry Picking Challenge event recap, please click here.
###
About Redlands Christian Migrant Association (RCMA):
Redlands Christian Migrant Association operates 66 child-care centers serving low-income, rural areas in 21 counties around Florida. The Tampa Bay Area alone hosts 18 centers. RCMA also operates three charter schools, including two in Wimauma, in south Hillsborough County. Founded in 1965, RCMA serves over 7000 children each day starting them on the past towards successful school and life outcomes. For more information about RCMA please visit www.rcma.org.
About Wish Farms:
Wish Farms, founded in 1922 and third-generation owned, is one of the largest shippers of strawberries in Florida and has been for over 50 years. Nationally recognized for quality and innovation, Wish Farms is a year-round supplier of strawberries, blueberries and blackberries growing both conventional and organic varieties. Wish Farms utilizes How's My Picking? ™, a patented tool for traceability to ensure quality by tying consumer feedback to the harvest time, field location, picker, etc. For more information about Wish Farms, please visit www.wishfarms.com.
About Monte Package Company:
Monte Package Company is a service oriented, direct distributor of agricultural containers and products for produce packers and growers throughout North America. Their state-of-the-art facilities located in Riverside, Michigan; Benton Harbor, Michigan; Lakeland, Florida; and Boynton Beach, Florida; combined with their national trucking contacts, shipping programs and highly skilled staff provide superior service and quality products coast to coast – on time, every time. For more information please visit www.montepkg.com.