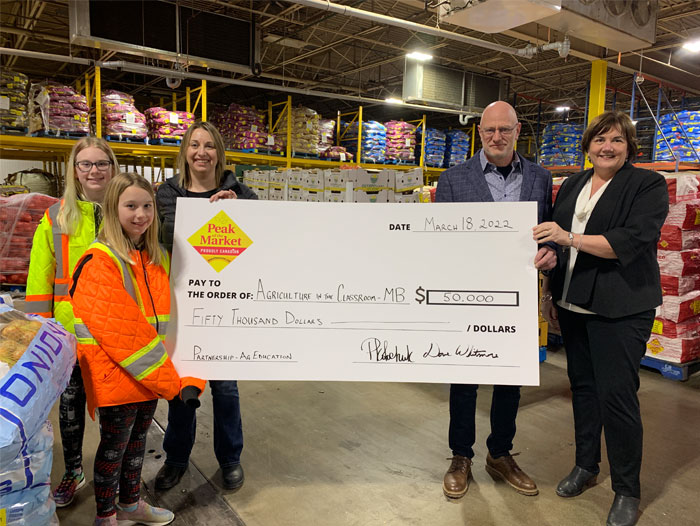 Agriculture in the Classroom-Manitoba (AITC-M) launched the Foundations of Manitoba Agriculture Virtual Resource Hub, a series of interactive courses and information sheets that invite teachers and students to explore the different crops grown and animals raised in Manitoba. 
Making the connection between food and where it comes from can lead to healthier eating choices and a better appreciation for agriculture and its role in feeding the world.
"Food is something that connects us all, yet very few Manitoban students understand how the food they eat ends up on their plates," says Sue Clayton, Executive Director, AITC-M. "The Foundations of Manitoba Agriculture brings that journey to life for them in ways that connect directly to the subjects they're learning about in school, including science, technology, the environment, nutrition, history. Learning about our province's most important crops and animals – and the people who grow and raise them – will lead to more empowered generation of consumers, decision makers and innovators."
AITC-M worked closely with partners in Manitoba's agriculture industry to ensure the resources provide accurate, balanced, and current information. The Foundations of Manitoba Agriculture was made possible thanks to the support of foundational sponsors, including Peak of the Market, our 2022 Presenting Sponsor.
"Peak of the Market Growers recognize the importance of education. Understanding how food is planted, grown and harvested is paramount to ensure the public is aware of the significance agriculture plays in all of our daily lives. Without food, we can not live. Our vision at Peak of the Market is to ensure that all Canadian fill half their plates with fresh produce. It all starts with educating young people on the basics of growing food, which in turn, creates educated adults who support our important agricultural industry," said Pamela Kolochuk, CEO, Peak of the Market Ltd.
Teachers and students can learn about each of the commodities featured in the hub through detailed information sheets, illustrated summaries, and interactive e-learning courses. Resources covering 20 Manitoba agricultural commodities have been released so far, and more are on the way.
In celebration of Farm and Food Awareness Week (September 19-23), AITC-M is also launching two games designed to help teachers and students explore the Foundations of Manitoba Agriculture in fun and interactive ways. The Amazing Veggie Race is geared to younger students, while the Agriculture Jeopardy Game challenges middle- and high-school students to test their knowledge.
Find out more about the Foundations of Manitoba Agriculture.
About Peak of the Market
Peak of the Market is an inclusive and diverse company driven by a dedicated group of Growers and staff that has
marketed quality produce for 80 years; supplying a wide variety of fresh, quality vegetables across Canada and
throughout the United States. Peak of the Market has earned the reputation for, not only ensuring the produce
grown exceeds the national standard for safety and quality, but that customers receive the same attention and
superior service. Everyone at Peak of the Market takes pride in working toward a collective commitment to excellence, in everything we do, all year long.
About Agriculture in the Classroom – Manitoba
Agriculture in the Classroom – Manitoba is a non-profit, charitable organization dedicated to developing curriculum-linked programs, resources and activities to help teachers and students learn more about the importance of agriculture in Manitoba.