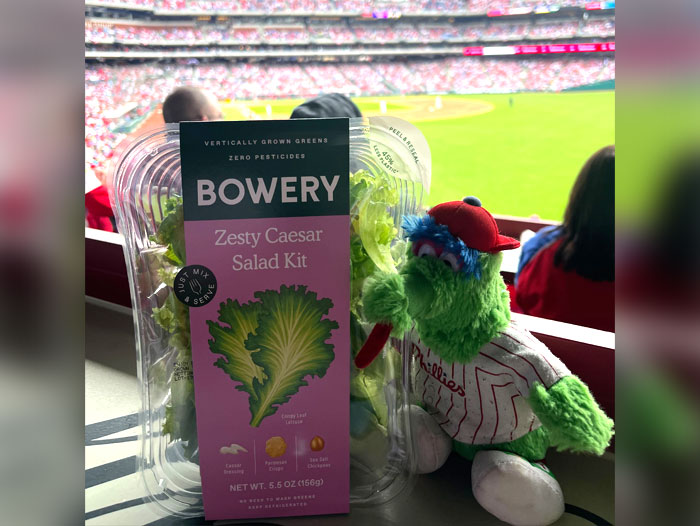 NEW YORK, NY — Bowery, the largest U.S. vertical farming company serving over 1,800 grocery stores and major e-commerce platforms, today announces a new partnership with Citizens Bank Park. Bowery's convenient, ready-to-eat salad kits are now available at the Philadelphia ballpark, home of the Phillies. This collaboration will bring Bowery's pesticide-free, grab-and-go Zesty Caesar kit to the stadium for the entirety of the baseball season, which began on April 6, 2023.
Bowery is reimagining the entire fresh food supply chain to be smarter, safer, and more sustainable. Citizens Bank Park has chosen to partner with Bowery as they further expand options for healthy, fresh, and local fare. This partnership will bring the Bowery Zesty Caesar salad kit — with a base of Bowery Crispy Leaf plus roasted chickpeas, parmesan crisps, and a citrusy Caesar dressing — to the Phillies fans.
"We know that Philadelphia is a city with abundant local pride, and we're excited to bring our delicious salad kits to Citizens Bank Park," said Matt Williams, Head of Sales, Bowery. "Crispy Leaf, grown in our smart indoor farm, is bringing a new level of freshness to concessions at the ballpark. Bowery is on a mission to support healthy food choices in all aspects of our customers' lives."
Citizens Bank Park is the first sports stadium in the country to offer Bowery's convenient, grab-and-go salad kits. The Bowery Zesty Caesar Salad salad kit is now available at Drink MKT, behind section 137 and at the Gluten-Free stand, behind section 122. This ballpark has received accolades from PETA for its dedication to providing delicious vegetarian food options, and a collaboration with Bowery furthers this commitment. Both Bowery and Citizens Bank Park are dedicated to sustainability, and greens that travel fewer food miles are a sustainable choice.
This collaboration coincides with a pivotal time in Bowery's growth. To meet demand for its produce,
Bowery is set to open two new smart farms in Locust Grove, Georgia (the Atlanta metro area), and Arlington, Texas (the Dallas-Fort Worth metro area). Bowery's farms are powered by 100% renewable energy. Wherever food is needed, Bowery can grow it.
About Bowery
Bowery, the largest vertical farming company in the United States, designs and builds smart indoor environments to reimagine the future of food. Through its network of smart indoor farms and proprietary end-to-end technology, Bowery is transforming the entire fresh food supply chain to be smarter, safer, and more sustainable. Bowery's farms are 100x+ more productive than traditional agriculture while using a fraction of the resources – all enabled by leading-edge technology.
Bowery is scaling quickly with five farms in operation, including a state-of-the-art R&D and innovation farms for pioneering indoor Agriculture Science, and two commercial farms under development that will more than double the company's total production. Bowery's brand has been in the market since 2016 and is currently sold in over 1,800 locations including Whole Foods, Ahold Delhaize, Amazon, Safeway/Albertsons, and Walmart.
Bowery is backed by tech and agriculture industry leaders with $647M in equity and debt raised from investors including Fidelity, Temasek, Google Ventures, KKR, General Catalyst, GGV Capital, First Round Capital, and individuals including Jeff Wilke, Tom Colicchio, José Andrés, and David Barber of Blue Hill.