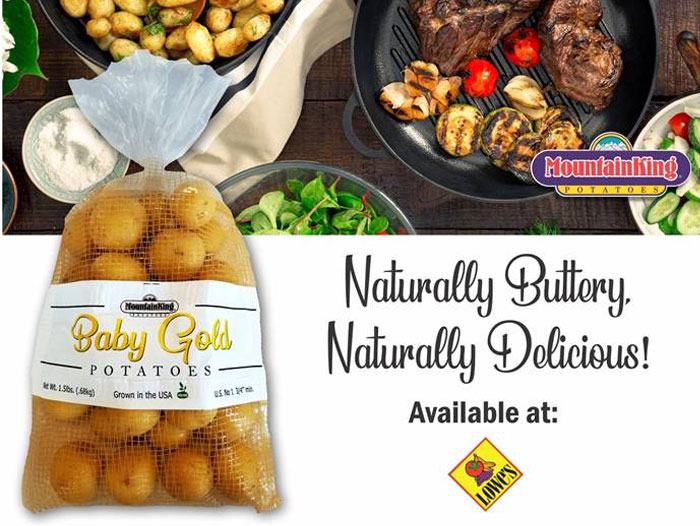 HOUSTON, TX – A series of new Facebook campaigns by MountainKing is generating impressive sales results for its smaller, baby-sized fresh potatoes as shoppers increasingly turn to social media platforms for in-home meal preparation ideas.
Beginning in April 2020, retailer-specific Facebook campaigns for Affiliated Foods, the Amarillo, Texas-based wholesale distribution cooperative, targeted shoppers in several west Texas markets with messages promoting the convenience, flavor, variety and nutritional benefits of MountainKing's baby-sized varieties. Each campaign was linked to MountainKing's recipe page while select campaigns featured a retailer logo.
"Our content ranged from a little silly and fun to factual and informative," says Andreas Trettin, MountainKing's director of marketing. "We wanted to keep the message fresh."
As a result of the turnkey Facebook campaigns, sales of MountainKing's Baby Golds jumped an impressive 139 percent. Sales of the company's Baby Medleys increased 77 percent followed by a 57-percent increase for its Baby Reds. All of MountainKing's Baby varieties are packaged in meshed, 1.5# bags. The figures represent year-over-year sales increases in select west Texas markets.
Another series of Facebook campaigns for Associated Grocers Baton Rouge elevated sales of the baby-sized varieties by 72 percent.
"While it's always about sales, the campaigns also allowed us to study the consumer comments to our posts," Trettin adds. "When necessary, we also shared these with our grocer partners to improve outcomes."
Packaged in 12/1.5# Masters or 120 ct. bins, each mesh 1.5# bag offers 4 – 5 servings. In addition to providing full visibility, the mesh bags are known to extend product shelf life.
Merchandising support for MountainKing's baby Gold, Red and Medley potatoes includes high-graphic sell bins featuring eye-catching oven graphics, reinforcing the fact that nearly half of all potatoes are prepared in the oven. Single pan, 30-minute recipes for fish, steak and chicken and display-ready sleeves also are available. All materials also are customizable for specific store formats and traffic patterns.
MountainKing Potatoes is one of the nation's largest growers of high-flavor potato varieties. Currently, about one million U.S. households enjoy MountainKing products every week.
To learn more, visit mountainking.com or call (713) 923-5807.