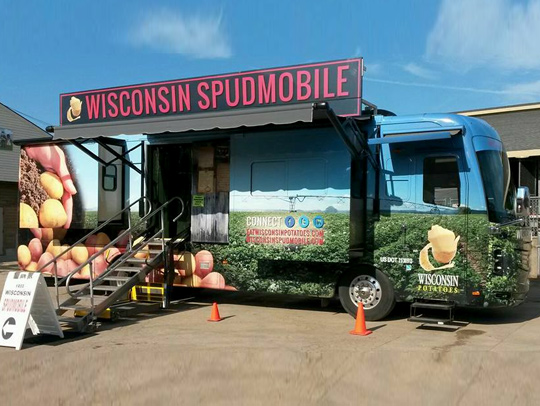 Elkhorn, Wisconsin — There's something exciting about seeing masters of a trade create something unique, creative, unexpected and in a certain amount of time. That's exactly what will happen on Friday, July 12th at the Elkhorn Rib Fest in Elkhorn, which will host the 2019  Wisconsin Potato Chef Competition, where the Wisconsin Spudmobile will also be debuting its newest updated exhibit!
Located at the Walworth County Fairgrounds (411 E Court Street), the Wisconsin Potato Chef Competition will feature three chefs from the Elkhorn, Lake Geneva and Madison area who will each be paired with a Wisconsin grower. As a team, they will be competing for the highest number of accumulated points in an appetizer, main dish and dessert round that should all keep potatoes as the "star of the dish" while being prepared within a set time limit. Judges will be assigning the points for each round based on creativity, appearance, taste and the probability of someone ordering it on a menu. And to make things more challenging, the only items the teams will be able to use are grills provided by The Big Green Egg Grill company and Bunsen burners. Each round will also include a mystery ingredient that will be communicated just prior to each round beginning.
Additionally, the competition will be filmed and turned into a TV episode on Mad Dog and Merrill's Midwest Grill'n show with an air date that will be determined in the upcoming weeks.
Besides the competition, the Wisconsin Spudmobile will also be front and center supporting and showcasing the industry with its educational components, including the newest and latest update, the Grower Map Exhibit.
The updated Grower Map features a 58" touchscreen TV that includes information about Wisconsin potato farms and images of the farms, owners and employees, as well as information about the agricultural research stations and industry organizations located throughout the state. Director of Promotions at the Wisconsin Potato and Vegetable Growers Association (WPVGA) Dana Rady says it's truly a win-win for the vehicle's newest exhibit to be debuting at an event that is also strengthening relationships with foodservice professionals.
"The Grower Map Exhibit is really taking the vehicle's Field to Fork story and personalizing it with an opportunity to visit Wisconsin potato farms and meet the growers through technology ad images. And when visitors are done "meeting the growers" inside the Spudmobile, they'll be able to see potatoes being made into delicious and creative dishes just outside the vehicle at the Chef Competition! We're also very privileged to be able to be part of the popular and well-established event, Elkhorn Rib Fest."
It's sure to be an exciting day that will have everyone's tastebuds hungry for America's favorite vegetable!
The Wisconsin Spudmobile was developed by WPVGA, which is a non-profit organization that represents and promotes the State's 300 potato and vegetable grower members and affiliates. The Spudmobile makes frequent appearances at locations throughout the Midwest including stops at schools, community events and retailers who provide Wisconsin potatoes to their customers.
To learn more about The Spudmobile or to schedule a visit, go to http://wisconsinspudmobile.com.
# # #
About Wisconsin Potato & Vegetable Growers Association
WPVGA is a non-profit organization that represents and promotes state potato and vegetable growers. We currently represent more than 300 members and affiliates. For more information on our commitment to sustainable agriculture, jobs and water use, visitwww.eatwisconsinpotatoes.com.