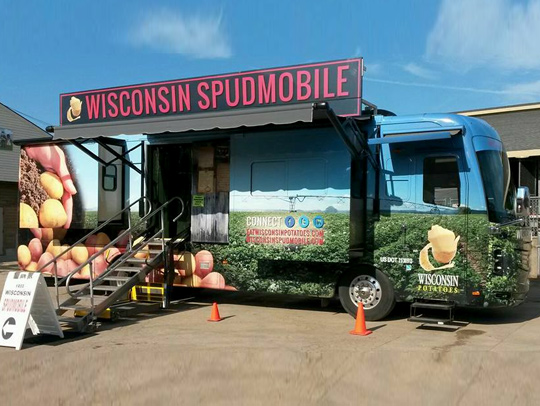 Antigo, Wisconsin — Football season may be over for now, but that isn't stopping fans from showing their support for the green and gold as well as Wisconsin potatoes!
The Wisconsin Spudmobile is traveling to Antigo on April 13 as part of the Green Bay Packers Tailgate Tour at the Langlade County Fairgrounds. Wisconsin's traveling billboard will welcome visitors of all ages, from 11 a.m. to 4 p.m., to learn about the state's potato and vegetable production as part of the 14th annual tour. The tour, which runs April 9-13th, includes former Packers players traveling throughout the state and making several stops along the way to thank fans for their support. And with the Spudmobile present, the best of both worlds in food and sports come together nicely all at one location!
This state-of-the-art mobile education vehicle that features an updated exterior wrap is focused on potato and vegetable production and takes visitors on a journey from the farmer's field to the dinner plate.
"Wisconsin Potato and Vegetable Farmers are excited to bring this mobile education and interactive experience to people of all ages," says Dana Rady, Director of Promotions, Communication and Consumer Education of the Wisconsin Potato & Vegetable Growers Association (WPVGA).
(more)
Through hands-on exhibits and eye-catching graphics, Spudmobile visitors will learn how farmers are stewards of the land and how they incorporate the latest technologies into their agricultural practices. When visiting the Spudmobile, guests will learn about varieties of potatoes grown in Wisconsin, how they are planted and harvested, the nutritional facts about potatoes and some statistics about America's favorite vegetable. Kids will be completely engaged as they play games on the interactive touch table and the Field to Fork exhibits.
The Wisconsin Spudmobile was developed by WPVGA, which is a non-profit organization that represents and promotes the state's 300 potato and vegetable grower members and affiliates. The Spudmobile makes frequent appearances at locations throughout the Midwest including stops at schools, community events and retailers who provide Wisconsin potatoes to their customers.
To learn more about The Spudmobile or to schedule a visit, go to http://wisconsinspudmobile.com.
# # #
About Wisconsin Potato & Vegetable Growers Association
WPVGA is a non-profit organization that represents and promotes state potato and vegetable growers. We currently represent more than 300 members and affiliates. For more information on our commitment to sustainable agriculture, jobs and water use, visitwww.eatwisconsinpotatoes.com