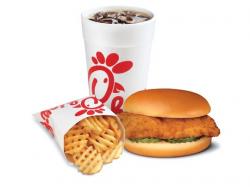 ATLANTA — Despite the sluggish economy and its effect on the restaurant industry, Chick-fil-A ended 2009 on a positive note by marking the companys 42nd year of consecutive sales growth. The Atlanta-based chain today reported 2009 system-wide sales of $3,217,001,094, representing an 8.6 percent increase over the chains 2008 overall sales performance and a same-store sales increase of 2.52 percent. 2009 also marked the first time the company surpassed $3 billion in annual sales.
Chick-fil-As record sales performance in 2009 continues a trend of year-over-year growth the chain has sustained since its inception in 1967.
Chick-fil-A has truly been blessed to have had another year of sales growth during these difficult economic times, said Chick-fil-A President and Chief Operating Officer Dan T. Cathy. While we by no means are immune to the economic challenges our country is facing, we do believe we will continue to remain healthy as long as we stay committed to the qualities that have shaped the Chick-fil-A brand thus far: providing exceptional customer service and unmatched product quality to every customer on every visit. We have sensed Gods continued blessings on this business, especially during these unprecedented economic times.
In addition to surpassing the $3 billion annual sales mark for the first time in early December 2009, Chick-fil-A celebrated a number of other business achievements in 2009, including:
Commemorated Founder and CEO S. Truett Cathys $25 million milestone in the Leadership Scholarship program for store team members.
Opened 83 new restaurants, including 69 stand-alone restaurants, one mall location and 13 licensed outlets (e.g. college campuses, hospitals, airports, businesses and industrial sites).
Recognized with a number of prominent industry awards, including:
QSR magazines Best Drive-Thru in America survey for the sixth time
Restaurants & Institutions Choice in Chains Customer Satisfaction Award (Chicken Category)
American Marketing Associations Silver Effie for Sustained Success with creativity and effectiveness in advertising for the Cow campaign.
Continued with aggressive marketing strategies to sustain sales momentum. Chain awarded 300,000 free Chick-fil-A Chicken Biscuits during its New Years Day breakfast promotion; provided more than 250,000 free meals to cow-dressed customers during its annual Cow Appreciation Day event on July 10; and gave away nearly 2 million Chick-fil-A Chicken Sandwiches to customers dressed in sports team attire during its Labor Day Giveaway promotion.
Celebrated the second annual Chick-fil-A College Kickoff and the 42nd annual Chick-fil-A Bowl, which were both played in front of sellout crowds in Atlantas Georgia Dome and televised nationally on ABC and ESPN, respectively.
Chick-fil-A awarded 17 franchise Operators new cars as part of the chains Symbol of Success sales incentive program. Through the program, franchisees are awarded a new Ford vehicle of their choice for meeting individual annual sales goals.
Philanthropy also continued to be a major focus in 2009 for the entire chain, a tradition set by its 88-year-old founder S. Truett Cathy. Cathy and Chick-fil-A commemorated the $25 million Leadership Scholarship milestone by awarding the 25,000th $1,000 scholarship to restaurant employees since 1973. Other significant charitable endowments for the chain included continued support for WinShape Foundation, a non-profit organization and charitable foundation established by the Cathy Family, and the 2009 Chick-fil-A Bowl, which again led all college football bowl games by contributing more than $1.2 million to charities and scholarships. Chick-fil-A also committed $5 million to the College Football Hall of Fames move to Atlanta.
What to Expect in 2010
How will Chick-fil-A sustain its momentum in 2010? With an extremely heavy dose of what has served us well in recent years, said Dan Cathy. 2010 will be a banner year for Chick-fil-A; perhaps our most notable year ever. We are enhancing our menu with new products, entering new markets, reinvesting in our current restaurants and giving back to our communities.
Following are highlights of key initiatives Chick-fil-A believes will help continue to grow the business in 2010:
New Product Introductions: In January, the chain introduced a new Chick-fil-A Yogurt Parfait and Chick-fil-A House Roast Coffee, a 100 percent Colombian coffee blend, in an effort to continue to grow its breakfast menu. In June, Chick-fil-A will introduce the first-ever variation to the original Chicken Sandwich, the Chick-fil-A Spicy Chicken Sandwich. Answering the most requested menu item from customers, the Spicy Chicken Sandwich will mark the largest product introduction in the chains 42-year history from an operational and store design perspective.
Restaurant Growth/New Market Expansion: 78 new locations will be added to Chick-fil-As restaurant portfolio, including 66 stand-alone locations, two mall/in-line restaurants and 10 licensed outlets. Chick-fil-A will also celebrate its first foray into the greater Chicago area with a stand-alone restaurant expected to open in Aurora in the third quarter.
Restaurant Reinvestments: In addition to building new stores, Chick-fil-A will dedicate reinvestment resources to renovate 86 of its existing restaurants in an effort to enhance the guest experience and introduce new efficiencies that will help attract and accommodate greater sales volumes.
Scholarship Donations: In 2010, Chick-fil-A will award $1.9 million in scholarships to its restaurant employees up from $1.4 million awarded in 2009. The 35 percent increase is the highest year-over-year increase in chain history.
Source: Chick-fil-A Inc.