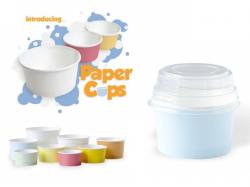 After many requests and much anticipation, PreGel AMERICA's ServIce® line now features paper cups! ServIce® will offer two lines of paper cups and lids, the YoCup for soft serve and frozen yogurt, and the GSI Cup for gelato, sorbetto and ice cream. The cups are made in Italy, HACCP certified, recyclable and available in a variety of sizes and colors.
PreGel's YoCup is the perfect way to present frozen yogurt and soft serve desserts to your eager customers. These white, recyclable cups are available in both 12oz and 20oz sizes. For your convenience, plastic dome lids for the 12oz cup and flat lids to cover the 20oz cup are also available to accomodate busy customers on the go!
GSI Cups offer the same sturdy feel and reliable stability as our YoCup line, but these frozen dessert cups are available in two sets of colors-Light and Vivid, which include 3oz Sea Green, 5oz Pale Yellow, 7oz Sky Blue, 3oz Coral, 5oz Marigold and 7oz Orange Blossom. Dome lids are available to fit all three cup sizes to produce coverage maintain the overall presentation of your frozen desserts.
PreGel AMERICA is dedicated to providing our customers with superior products that set the standard for overall quality. We are delighted to introduce this new line of paper cups to you and are pleased to continue to present new concepts to assist the success of your business.
A serveware line for specialty desserts, PreGel AMERICA's ServIce® line also offers customized paper cup solutions for businesses seeking to further their brand identity. For more information or to place your paper cup order, contact your sales representative or special service team member at 866 977 3435.
Source: PreGel AMERICA