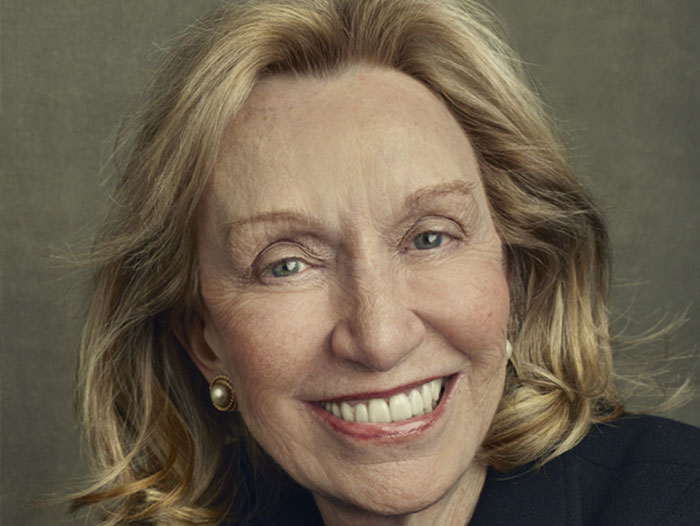 Trumbull, CT– The NGA Show announced that Pulitzer Prize-winning, New York Times #1 best-selling author, and presidential historian, Doris Kearns Goodwin will deliver the opening keynote address, sponsored by The Kraft Heinz Company, at the 2020 NGA Show, held February 23-26 at the San Diego Convention Center.

A renowned presidential historian and public speaker, Goodwin has a long career of studying the American presidents, with a focus on Presidents Abraham Lincoln, Theodore Roosevelt, Franklin Roosevelt and Lyndon Baines Johnson, and is known for her insights into what made these leaders great and how they overcame challenges that have shaped American history.

Her seventh book, Leadership in Turbulent Times, was published in September 2018 to critical acclaim and became an instant New York Times bestseller. Goodwin was awarded the Pulitzer Prize for No Ordinary Time: Franklin and Eleanor Roosevelt: The Home Front in World War II. Additionally, Goodwin's Team of Rivals: The Political Genius of Abraham Lincoln was adapted by Steven Spielberg in Lincoln.

She is also well known for her appearances and commentary on television and is frequently seen in documentaries including Ken Burns' The History of Baseball and The Roosevelts: An Intimate History; and on news and cable networks, and shows including Meet The Press and The Late Show with Stephen Colbert. She played herself as a teacher on The Simpsons and a historian on American Horror Story.

Goodwin's career was inspired when as a graduate student at Harvard, she was selected to join the White House Fellows. She worked in the White House and later assisted President Lyndon Johnson in writing his memoirs. She proceeded to write Lyndon Johnson and the American Dream, which became a national bestseller.

"We are excited to welcome Doris Kearns Goodwin as the keynote speaker for our opening session at the 2020 NGA Show," said Greg Ferrara, president and CEO of the National Grocers Association. "Given her extensive knowledge of American history and its leaders, I look forward to hearing her thoughts on today's political environment and what we can anticipate as a country going forward by what we know from our past."

The Opening Keynote Session will take place Sunday, February 23, 2020 at 5:00pm PST.

###

The NGA Show has been the place where independent grocers gather for over 30 years, connecting supermarket retailers and wholesalers, food manufacturers and service providers from around the world to share innovative solutions and best practices that support and strengthen the independent supermarket channel. The NGA Show is produced and managed by Clarion UX as part of the Food & Beverage Group in partnership with the National Grocers Association (NGA). For more information and to register, visit www.theNGAshow.com.
The National Grocers Association (NGA) is the national trade association representing the retail and wholesale grocers that comprise the independent sector of the food distribution industry. An independent retailer is a privately owned or controlled food retail company operating a variety of formats. The independent grocery sector is accountable for close to one percent of the nation's overall economy and is responsible for generating $131 billion in sales, 944,000 jobs, $30 billion in wages, and $27 billion in taxes. NGA members include retail and wholesale grocers, state grocers' associations, as well as manufacturers and service suppliers. For more information about NGA, visit www.nationalgrocers.org.

Clarion UX (www.clarionux.com) produces 37 events across 13 sectors of both trade and consumer events. Clarion UX, which is the U.S. division of Clarion Events, UK, and backed by The Blackstone Group has become one of the fastest growing event companies in the U.S. with aggressive growth through both acquisition and launch. Clarion acquired PennWell in early 2018, bringing 4 Tradeshow 200 events into the U.S. portfolio and super-charging the already rapid growth. Clarion UX has offices in Trumbull, CT; Kennesaw, GA; Boca Raton, FL; Tacoma, WA, and Fairlawn, NJ. www.clarionux.com