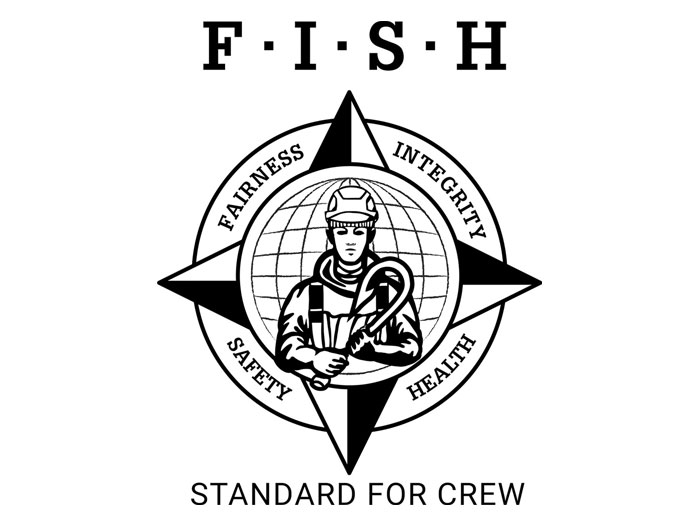 San Diego, CA — FISH Standard for Crew Inc. is pleased to announce that 33 Fishing Industry Association Papua New Guinea (FIA PNG) tuna purse seiners have been awarded FISH certification.  The certification, issued by SGS, follows extensive policy and procedure review, on-site vessel inspections, and face-to-face interviews of staff, captains, and crew members.  The Philippine and Papua New Guinea flagged vessels are owned by FIA PNG member companies.
"We are proud to be the first to attain FISH certification in our region. The fourth pillar of FIA PNG's Responsible Sourcing Policy is crew welfare, an area we have worked hard on for a number of years implementing policies and practices across our member companies while partnering with outside experts to identify best practices," said Sylvester Pokajam, FIA PNG's President and Chairman. "FISH certification, whose audits have worked to further improve our practices, was the next logical step in our journey. This independent process demonstrates we have achieved, and maintain, the highest levels of performance with respect to crew treatment, compensation and onboard conditions."
"In speaking with their team after FISH certification, it was validating to hear that they found the audit process fair and practical yet challenging and an additional driver for improvement," noted Fridrik Fridriksson, chair of the FISH's Board of Directors and Chief Human Resources Officer at Brim. "FISH ultimately seeks to better the conditions for fishers and to serve as a tool that harvesters like FIA PNG can use to demonstrate their commitment to crew welfare, compensation, and on-board conditions. Congratulations to the FIA PNG fleets on accomplishing both objectives."
FIA PNG joins Nueva Pescanova's NovaNam fleet in Namibia, APA Alaska catcher-processor vessels, and PPLP Alaska motherships in successfully attaining FISH certification. FISH is actively working with organizations and fleets around the world.
FISH Standard for Crew provides a voluntary, independent and accredited third-party certification program for labour practices on vessels in wild-capture fisheries around the globe.
The FISH Standard is based on ILO-C188 and related guidance.
The Fishing Industry Association (PNG) Inc. is a registered "Association" with the PNG
Investment Promotion Authority. Its mission is to drive domestic fisheries industrialization to create and enable the maximum long term economic benefit from the sustainable use of PNG's fishery resources. We are SGS – the world's leading testing, inspection and certification company. We are recognized as a global benchmark for quality and integrity. Our 96,000 employees operate a network of 2,700 offices and laboratories, working together to enable a better, safer, and more interconnected world.