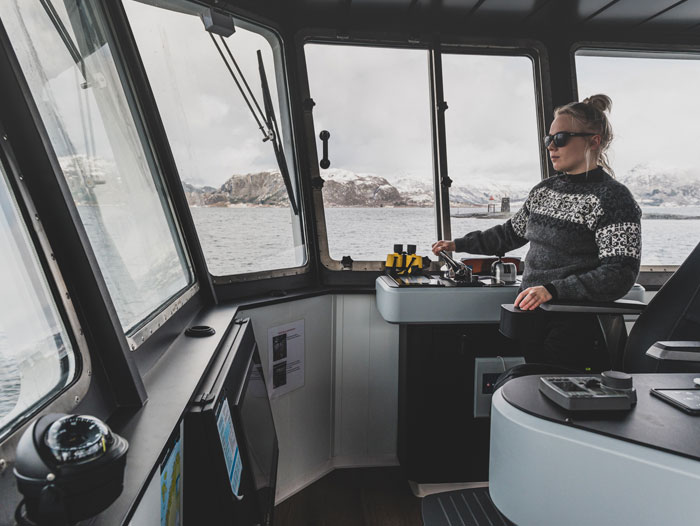 For the fourth consecutive year, Kvarøy Arctic (pronounced "Kwa-ray"), a family-owned business that responsibly farms Atlantic salmon in Norway's Arctic Circle, is delighted to confirm the continuation of its global scholarship program for women. Since the beginning of the program, over 1000 women from more than 55 countries have applied for the scholarship.
Recognized by FastCo as one of the World's Most Innovative Companies in 2022, Kvarøy Arctic will award one annual scholarship that supports the further education, research, and career development of a woman in the field of aquaculture. The program will provide a $10,000 fund for education and scientific research for one recipient.
The application process is open until the 1st of July. Women from all around the world are invited to apply. The recipient of the 2023 scholarship will be announced on the 1st of August.
Launched in 2020, the scholarship's objective is to educate women about the future of food systems and the significance of sustainable aquaculture within it.
To ensure fair recipient, Kvarøy Arctic has invited women who are already transforming the state of aquaculture to join the scholarship committee. Julie Kuchepatov from Seafood and Gender Equality (SAGE) together with Kvarøy Artic's management team oversee the annual scholarship.
"For three years, SAGE has proudly supported Kvaroy Arctic's Women in
Aquaculture scholarship program, and we are excited to continue this effort in 2023. We cannot overstate the importance of this program which helps to usher in the next generation of women who are ready, willing, and able to lead the aquaculture sector into a bright, blue future," explains Julie Kuchepatov who founded the non-profit initiative Seafood and Gender Equality with the goal to work towards a more diverse, inclusive, ethical, and sustainable seafood industry.
"Empowering women in aquaculture is not just a moral imperative, it's an economic one too. By providing women with the tools and resources they need to thrive in this industry, we can unlock untapped potential and drive sustainable growth for our communities. Let's break down the barriers and ensure that every woman has the opportunity to make a splash in aquaculture!", shares Jennifer Bushman, Chief Marketing Officer at Kvarøy Arctic.
Kvarøy Arctic is committed to promoting gender equity in the seafood production sector by investing in women's education and research. With a focus on preparing women for leadership positions, the company's program aims to break down barriers and create equal opportunities for women pursuing careers in aquaculture. By empowering women to participate in decision-making processes, Kvarøy Arctic is working towards eliminating gender boundaries and fostering a more diverse and inclusive industry.
How to Apply:
Applications and a full list of qualifying criteria is available at the Kvarøy Arctic website (KvaroyArctic.com). Applicants must be 18+ and submit their completed form with a current CV to scholarships@kvaroyarctic.com by 19:00 (U.S. Pacific Time) July 1st, 2023. Recipients will be announced on August 1st, 2023.
About Kvarøy Arctic:
Kvarøy Arctic is a third-generation Atlantic salmon farm on the Island of Kvarøy along Norway's Arctic Circle. Led by CEO Alf-Gøran Knutsen, Global Marketing Manager Ida Olsen Knutsen, Production Manager Gjermund Olsen, and Operations Manager Håvard Olsen, the Kvarøy Arctic team is ushering in a new era of sustainability for salmon farming as a net producer of fish protein with a commitment to traceability and transparency through IBM blockchain technology.
Recognized by Fast Company as one of the World's Most Innovative Companies in
2022, Kvarøy Arctic is the first farmed finfish to carry the Fair Trade USA seal, and is BAP, ASC and Global G.A.P. certified. The salmon has the merroir of Norway's cold, clear waters with delicate marine flavors and slight brininess. It is one of a small number of farm-raised fish certified by the American Heart Association's® Heart-Check program. Awarded the 2022 NEXTY Award for Best New Frozen Product by Expo East, the Kvarøy Arctic Salmon Hotdog is non-GMO, gluten-free and has a full weekly recommended allowance of Omega-3s in one serving. Other Kvarøy Arctic product offerings include fresh and frozen fillets, smoked salmon, and salmon burgers.
Kvarøy Arctic is currently available nationwide at select restaurants and retailers such as True Food Kitchens, Whole Foods Market U.S. locations, and more.