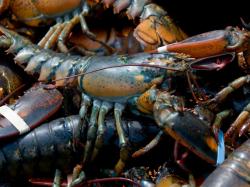 TONEY RIVER – The Northumberland Strait lobster season wraps up this week and it was a tough season for most fishermen.
"Well, it was a challenge," said Ronny Heighton of the Northumberland Fishermen's Association. "We had terrible weather. It was cold, windy and rainy."
Heighton said the catches were slow in most areas, especially in the waters around Pugwash and Malagash, which are down from last year. He said by the end of the season, next Thursday, catches will be on par with last year.
Eugene Fortune, who fishes out of Toney River, said his catches are where they should be for this time in the season, but like most, doesn't think the prices are.
To read the rest of the story, please go to: The News (Nova Scotia)