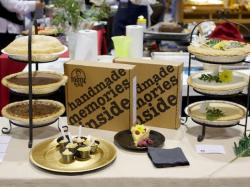 SAN ANTONIO — Tootie Pie Company, Inc. announced that Tootie Pies are now carried in Crescent Market, an upscale grocer located in Oklahoma City, OK.
"A Gourmet Tootie Pie in a gourmet grocer is exactly the combination we are seeking. We are pleased to continue our expansion into upscale operations with the addition of Crescent Market, a recognized and valued gourmet grocer" said Don Merrill, President & CEO.
"Crescent Market has been providing the finest gourmet selection, in an equally appealing upscale environment, for over 100 years. We cater to the discriminating tastes of our customers by providing them with the best products available in any given category. We think our customers will love Tootie Pie as much as we do" said Tony McGuffee, Store Manager of Crescent Market.
"Premium food establishments are recognizing the value of attracting a Tootie Pie customer. Many grocery managers tell us that what they like about our customer is that she buys a ribeye steak, a nice bottle of wine and a Tootie Pie for her gathering. In these times, when so many operations are focused on delivering lower prices by offering lower quality, customers that buy Tootie Pies want high quality and are willing to pay for higher quality. Many upscale food establishments seek to increase sales to these customers and more customers are rewarding these operations with increased business" added Merrill.
About Crescent Market: Oklahoma's #1 gourmet grocer, serving up "Good Things to Eat" since 1889. Crescent Market is known for its red carpeting, antique furniture and fireplace, as well as for providing its loyal customers with the finest selection of gourmet fine foods, a large meat market and shelves of specialty items from around the world.
This Oklahoma City favorite also continues the tradition of providing customer charge accounts. The store has maintained charge accounts since it began, and now has over 850 active accounts, many who are 2nd and 3rd generation customers; with relationships forged across decades of loyal family shoppers. Customers are still greeted by a smile from familiar faces and served complimentary hot coffee and cookies.
The Crescent Market is located in Nichols Hills Plaza at 6409 Avondale Drive, close to the intersection of NW 63rd and North Western Ave. Telephone (405) 842-2000 or order through www.thecrescentmarket.com
About Tootie Pie Co.
Tootie Pie Company bakes and sells high-quality, handmade pies through three basic sales channels: retail, corporate and wholesale. The retail segment serves individual customers through sales in its Tootie Pie Gourmet Cafés, in-store sales, orders via telephone and internet on the Company's website. The corporate segment serves businesses that purchase pies as a way to promote their company through client and employee appreciation programs. The wholesale segment is made up of national and regional broad line grocery and foodservice distributors who purchase pies and then resell them through their respective sales distribution channels. Tootie Pie Company is a public company traded on the NASDAQ OTC market under the symbol "TOOT." For additional information or to receive correspondence from Tootie Pie Company, please visit www.tootiepieco.com.
Forward-Looking Statements
This press release may contain forward-looking statements. The words "believe," "expect," "should," "intend," "estimate," and "projects," variations of such words and similar expressions identify forward-looking statements, but their absence does not mean that a statement is not a forward-looking statement. These forward-looking statements are based upon the Company's current expectations and are subject to a number of risks, uncertainties and assumptions. The Company undertakes no obligation to update any forward-looking statements, whether as a result of new information, future events or otherwise. Among the important factors that could cause actual results to differ significantly from those expressed or implied by such forward-looking statements are risks that are detailed in the Company's filings, which are on file with the U.S. Securities and Exchange Commission (SEC).
Source: Tootie Pie Co.