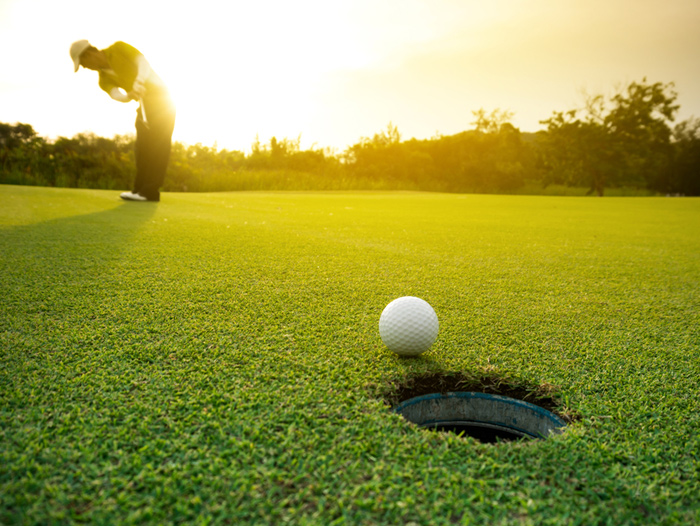 Montreal – While the weather didn't always cooperate, nothing could dampen the spirits of the 300 participants who showed up rain or shine for the 61st Annual QPMA Golf Tournament, chaired by Antonio Bono (Chenail Import-Export).
When the tee offs, initially scheduled for 10:30 am (Les Braves) and 11:00 am (Les Seigneurs), were postponed, participants made the most of the break by networking at the brunch. By noon, club management okayed tee offs on both courses and the tournament was finally in full swing. Members got the chance to try their hand in events like the "hole in one" and the "closest to the cup" challenge. They were also able to stop at kiosks along the way to sample snacks and drinks that included gin and cucumber cocktails, fruit skewers, and a new QPMA kiosk this year where they were free to discuss opportunities and priorities in the fruit and vegetable sector with Julie DesGroseilliers, spokesperson for the I Love Fruits and Veggies Movement, and QPMA CEO, Sophie Perreault.
Once the tournament was over, it was time for relaxation and getting down to business during the pleasant cocktail reception and dinner, punctuated by regular drawings for the 35 prizes and gifts worth between $400 and $1,500 each.
The event was also an opportunity for the QPMA to again financially support a selected foundation. This year, board president Dino Farrese decided to make a donation to a cause that's close to his heart. Dr. Martin Juneau, the renowned head of the Montreal Heart Institute's EPIC Centre, was presented with a cheque for $5,000. The gift also dovetails perfectly with the I love Fruits and Veggies Movement where part of our mission is to show the positive effect fruit and vegetable consumption has on reducing the risk of cardiovascular disease.
The QPMA is grateful all its sponsors, partners, and, of course, the participants, who made this year's Golf Tournament another great success. Thanks also to the golf committee and volunteers. The QPMA looks forward to seeing one and all again in 2020 for an even better and sunnier event.
About the QPMA
The Quebec Produce Marketing Association is a non-profit organization that brings together members from every sector of the fruit and vegetable industry, working in close synergy with them and with its various industry partners. In carrying out its mission of creating a favourable environment for the development of fruit and vegetable marketing in Quebec, the QPMA plays a leadership role in representing and promoting the best interests of its members with government and industry.
About the I Love Fruits and Veggies Movement
The I Love Fruits and Veggies Movement was launched in August 2018 to raise public awareness of the importance of consuming fruits and vegetables as part of a healthy lifestyle. For more information, please go to jaimefruitsetlegumes.ca and follow us on social media by sharing with the hashtag #ILFV.