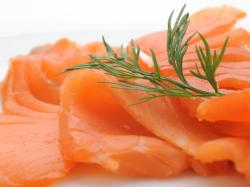 An American salmon supplier has been fined and given probation for falsely claiming its fish was from Scotland when it had been imported from Chile.
US prosecutors said it was sold under the award-winning St James Smokehouse brand, run from Annan in Dumfriesshire and Miami.
UpRiver Aquaculture, also known as MKG Provisions, pleaded guilty to violating a US law on false labelling of food.
It was fined £34,000, with three years of probation.
To read the rest of the story, please go to: BBC