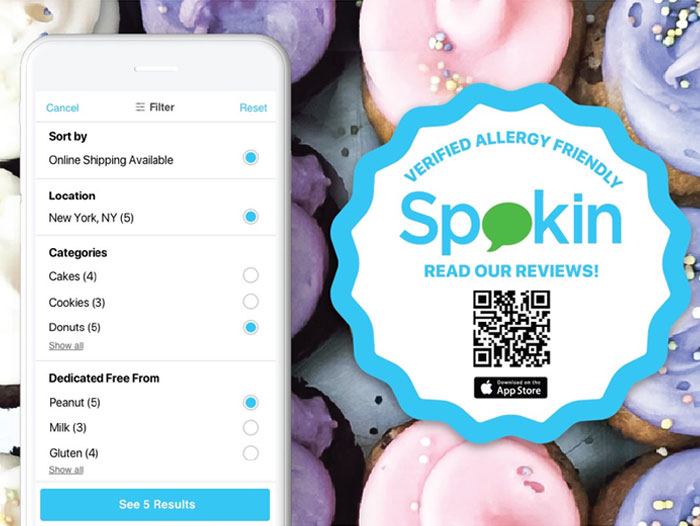 For the 32 million Americans managing a food allergy, bakeries have long been too risky to visit. Not only are allergy-friendly bakeries difficult to find, but it takes an incredible amount of work to determine if they're safe. Today Spokin has launched Verified Bakeries, the first program solely focused on helping the food allergy community find safe and delicious bakeries near home or traveling.
From Dailey Pastry, a boutique Brooklyn bakery making nut- and egg-free macarons, to Erin McKenna's Bakery, a legendary vegan and gluten-free NYC bakery with several locations, Spokin Verified Bakeries is launching with a crave-worthy group of nut-, soy-, gluten-free and plant-based bakeries.
"Finally a one-stop app where those with food allergies can connect and share their favorite finds. Trust in the community is everything, therefore I'm proud to be a Verified Bakery on Spokin!" said Erin McKenna of Erin McKenna's Bakery.
CEO and Founder Susie Hultquist is a food allergy mom who understands the importance of safe baked goods, "I started Spokin when I couldn't determine if a cookie was safe for my daughter. I cannot overstate the importance of having a safe cupcake for a class party, bagels or donuts a family can share, or a safe gingerbread house to decorate at Christmas. It's emotional for families like mine. There's an incredible need for this."
Spokin Verified Bakeries has launched with 13 allergy-friendly bakeries. To be Verified, bakeries have answered 28 frequently asked allergy questions. From what allergens they are dedicated free from to what kind of chocolate they use—all the answers are now just a tap away in the Spokin app. Many food allergy families have never enjoyed the simple pleasure of walking into a bakery to enjoy a cupcake. Spokin Verified Bakeries will save these families the hours of research and legwork that it currently takes to find even a single safe bakery.
"Finding safe bakeries for my daughter's multiple allergies has always been so much work," said Spokin user Victoria Kotz. "And it's tough getting all the answers I need when a bakery is busy. I am so excited about Verified Bakeries and can't wait to use it on my summer vacation!"
The app allows users to easily filter by allergies, what kinds of baked goods they are looking for, bakery location and the availability of online shipping so users can find safe donuts, cookies, cakes and more travelling or near home.
"We want to drive business to these bakeries, which in many cases have been hurt by the pandemic," said Hultquist. "An astounding number of bakeries closed over the past year and the mission of Spokin Verified Bakeries is to connect bakeries to the food allergy community that so desperately needs them to stay in business."
About Spokin
Spokin is the largest and fastest growing platform in the food allergy space helping users find resources across their lifestyle. Spokin's Founder and CEO Susie Hultquist created Spokin to help the food allergy community save time by making valuable allergen information accessible and convenient, with over 65,000 reviews over more than 80 countries. Spokin also creates original content including travel, product and city guides. Spokin has been featured on Red
Tricycle, Entrepreneur, the Chicago Tribune, Business Insider, Stanford Magazine, and Entrepreneur's Elevator Pitch. The Spokin iOS app is free and available in the Apple App Store. For more information, please visit spokin.com.