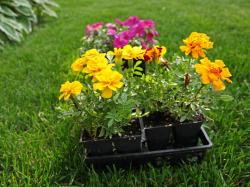 Edmonton, Alberta – The Honourable Kevin Sorenson, Minister of State (Finance) and Member of Parliament for Crowfoot, on behalf of Agriculture Minister Gerry Ritz, announced an investment of $2.3 million to the Canadian Ornamental Horticulture Alliance for a national research cluster to help address the industry's top priorities.
This cluster, comprised of industry partners and research organizations across Canada, will harness Canada's expertise in areas such as water and nutrient management and sustainable production. It will also help the industry tap into new market opportunities at home and abroad.
Quick facts
Founded in 2008, the Canadian Ornamental Horticulture Alliance is an alliance of three ornamental horticultural sector organizations: the Canadian Nursery Landscape Association, the Fédération Interdisciplinaire de l'Horticulture Ornementale du Québec and Flowers Canada Growers.
Across Canada, the ornamental horticulture industry drives over $1.8 billion in farm gate sales and almost 30,000 jobs.
This project builds upon the technological advancements and knowledge gained through the ornamental cluster under the first Growing Forward framework. These included introducing technology to conserve water and improving nutrient use and energy savings in greenhouses.
This investment is made through the Industry-led Research and Development stream of Agriculture and Agri-Food Canada's AgriInnovation Program, a five-year, up to $698-million initiative under Growing Forward 2.
Quotes
"Canada's horticulture sector is large and diverse, and a core part of Canada's economy. The results from this project will help increase the competitiveness and sustainability of the sector by creating economic opportunities and market growth."
– The Honourable Kevin Sorenson, Minister of State (Finance)
"This AgriInnovation funding provides the very real opportunity for our industry to develop new breeds of plant material that represent the beauty and hardiness that Canada is known for around the world. It also helps us proactively address growing threats to crops from environmental challenges and to improve production practices for continued growth and sustainability."
– Michael Murray, President of the Canadian Ornamental Horticulture Alliance
Source: Agriculture and Agri-Food Canada