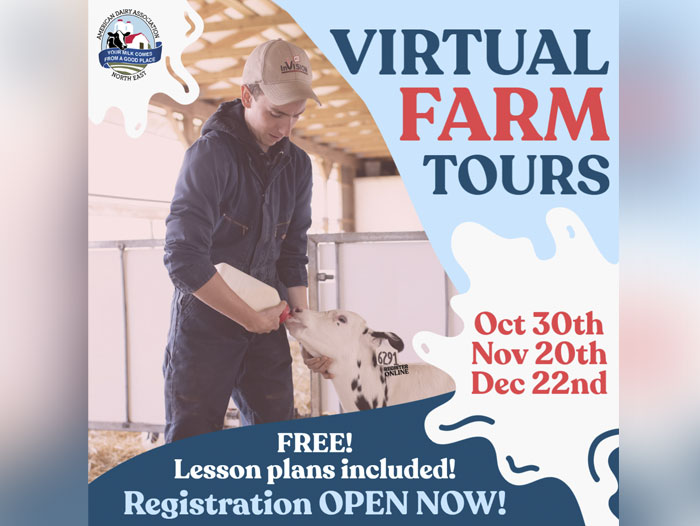 Dairy Farmers Encouraged to Promote Program in Local Schools
SYRACUSE, N.Y. – The Fall 2023 Virtual Farm Tours, coordinated by American Dairy Association North East, are set to kick off on October 30.
Since launching the Virtual Farm Tour concept in 2018, the tours have racked up more than 550,000 views between the live and recorded broadcasts.
The upcoming tours are:
October 30 – Del-Rose Farm, Bloomville, N.Y.
November 20 – Ideal Dairy, Hudson Falls, N.Y.
December 22 – Scattered Acres Farm, Catawissa, Pa.
"This program is building trust in dairy by helping consumers make the connection with those who are producing the milk and products they enjoy," said ADA North East CEO John Chrisman. "It also gains credibility when dairy farmers share the registration information with their local schools, which we encourage you to do."
Two separate tour sessions will take place on the same day at each farm, including:
A deep dive tour with lesson plans for Grades 6-12
A general tour with lesson plans for Pre-K- Grade 5 students
The program includes the free teacher-developed student lesson plans which meet Common Core Standards for elementary, middle and high school classes.
All lesson plans are available to download, as well as registration for the Fall 2023 Virtual Farm Tours and access to recorded past tours at AmericanDairy.com under "Virtual Farm Tours."
###
About American Dairy Association North East
American Dairy Association North East (ADA North East) is the dairy farmer-funded organization funded by participating dairy farmer's checkoff investment to build demand and sales for milk and dairy foods throughout the local region. Representing nearly 9,000 dairy farm families in Delaware, Maryland, New Jersey, New York, Pennsylvania and northern Virginia, ADA North East develops and implements local programs to drive milk and dairy sales at retail outlets and in schools. The organization also conducts consumer education about dairy through events, traditional and social media, and in collaboration with health professionals through National Dairy Council®. ADA North East works closely with Dairy Management Inc.™, the national dairy checkoff organization, to support nutrition research, national partnerships and developing export markets for dairy to bring a fully integrated promotion program to the region. For more information, visit www.AmericanDairy.com.