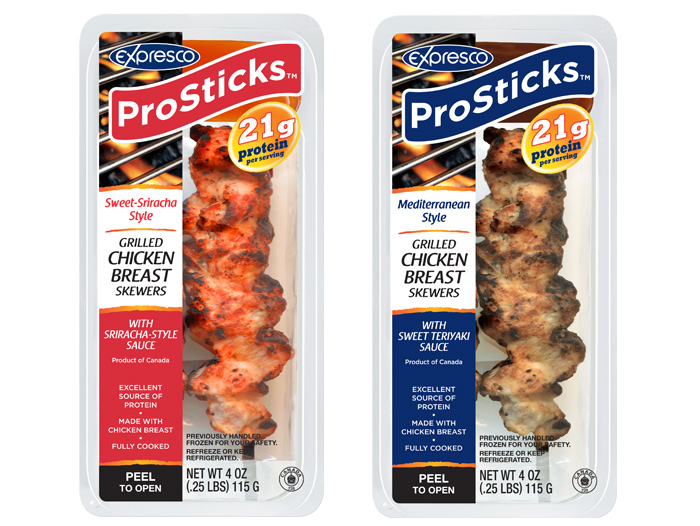 Montreal, QC, Canada – ProSticks, the latest creation from Expresco Foods, is the optimal snack on the go. ProSticks is keeping step with consumers' grab-and-go lifestyles by launching into two new retailer locations. Available May 1st, consumers throughout the U.S. can find ProSticks in Target and Hannaford. At a suggested retail price of $2.99 for 3.5 oz., Expresco ProSticks are a quality, protein-packed snack that consumers crave.
ProSticks deliver a wholesome, satisfying and savory snack that is free of preservatives while packing more than 20 grams of protein in each serving. ProSticks are hand-made, grilled to perfection and come in three delicious flavors paired with complementary sauces. Flavors launching into new U.S. retailers include Mediterranean with Sweet Teriyaki sauce, Sweet Sriracha with Sriracha sauce and Chipotle with Chipotle BBQ sauce.
"It seems we are all always on-the-go, and ProSticks are ideal for consumers looking for a high protein snack without missing a beat," shared Pam Salzman, Director of Marketing and Communication at Expresco Foods. "Now, Target and Hannaford shoppers can grab our on-the-go snack and benefit from the power of protein."
ProSticks' expansion speaks to discerning consumers who are currently driving food trends and advocating the power of protein. These consumers are acutely aware of their dietary needs and are constantly searching for brands that offer nutritional value. Crafted with more than 20 grams of protein, ProSticks tasty grilled chicken-on-a-stick refrigerated snacks define convenience.
About Expresco Foods
For over 30 years, Expresco Foods has been committed to creating top quality, portion controlled, value-added convenient meal and snack solutions. Expresco's innovative and entrepreneurial spirit has guided the development of fully cooked grilled protein products, frozen and fresh for foodservice, retail and deli across North America. Visit www.exprescoprosticks.com for more information.