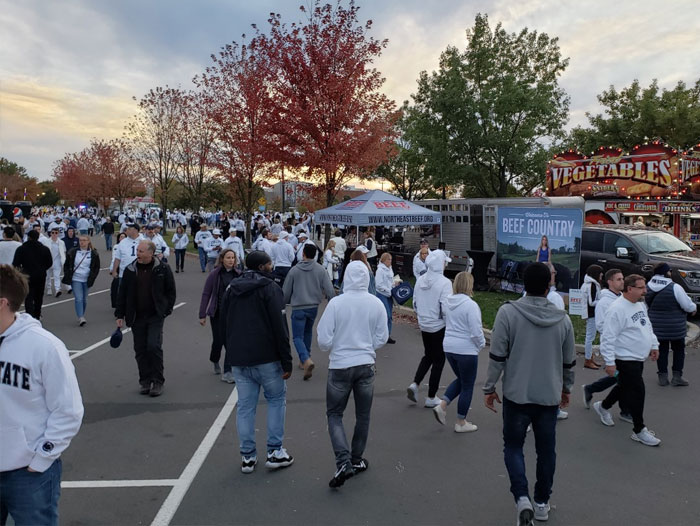 Bedford, PA – The leaves are turning, the temperature is dropping, and tailgaters are coming out in droves to support their favorite team – but more importantly, show off their grilling skills with beef as the star of the show. The Beef Checkoff's Northeast Beef Promotion Initiative (NEBPI) had a presence at Penn State Fan Fest on Saturday, October 19th ahead of the Penn State versus Michigan Football game thanks to a partnership with the Iowa Beef Industry Council and the Colorado Beef Council.
NEBPI staff, PA Beef Council Board of Directors, local beef producers and collegiate advocates were all on-site outside of Beaver Stadium on Saturday, October 19th to engage with fans ahead of the Penn State versus Michigan football game. Visitors to the beef booth were greeted with freshly grilled strip steak samples, as well as information surrounding tailgating with beef. The goal of the partnership with Penn State Athletics is to transfer the loyalty of the fans towards beef, in an effort to increase beef demand.
Those visiting the beef booth also had the opportunity to participate in an educational survey. The survey revealed that 85% of attendees had a positive perception surrounding beef. When polled about what they would like to learn more about, 60% of attendees answered that they want to know more about how to cook with beef.
Amanda Butterfield, PA Beef Council Board of Director noted, "As a beef producer attending the Northeast Beef Promotion Initiative event at Penn State Fan Fest, I was overwhelmed by the positive response from the crowd! Of all the events that I have attended in the past, the engagement was phenomenal. We had conversations about recipes, how our cattle are raised and sustainability in which attendees prompted us. There were multiple touchpoints. Definitely a 'do over' event!"
Partnerships with influential audiences, like Penn State sports fans, help to amplify and broaden the reach of Beef Checkoff messaging and content, due to the loyalty that already exists among this audience. Checkoff-funded research in the Northeast shows that messaging related to beef's protein, lean cuts and essential nutrients appear to be reaching, and favorably influencing, consumers.
Media Contact: Kaitlyn Swope; kswope@pabeef.org or visit the NEBPI website.
Internal links within this document are funded and maintained by the Beef Checkoff. All other outgoing links are to websites maintained by third parties.
# # #
The Beef Checkoff Program was established as part of the 1985 Farm Bill. The checkoff assesses $1 per head on the sale of live domestic and imported cattle, in addition to a comparable assessment on imported beef and beef products. States may retain up to 50 cents on the dollar and forward the other 50 cents per head to the Cattlemen's Beef Promotion and Research Board, which administers the national checkoff program, subject to USDA approval.