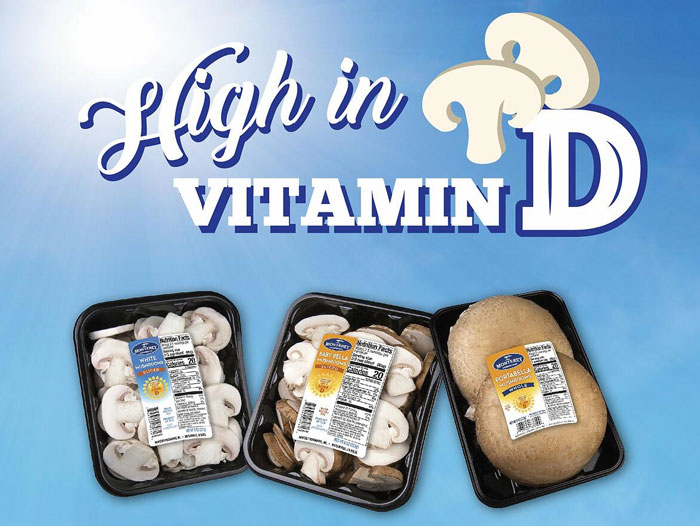 Monterey Mushrooms will feature its high vitamin D mushroom line in booth 2848 at the PMA Fresh Summit in Anaheim.
Mushrooms specially labeled "high in vitamin D" are the only natural food in the produce aisle that may help increase the amount of the important vitamin consumed in a daily diet.
Monterey's vitamin D enhanced mushrooms are available to customers nationwide in 8-ounce and 16-ounce packages of sliced whites, sliced baby bellas and whole portabella caps.
The company worked with the USDA to achieve high vitamin D levels by replicating sunlight indoors to bring a much higher concentration of the vitamin than is normally available in mushrooms. With the help of our special lights, mushrooms convert ergosterol into vitamin D, creating a plant-based dietary source of this essential bone building vitamin.
"We want people to know it's easy to incorporate vitamin D into a daily diet with the help of mushrooms," said Mike O'Brien, vice president of sales and marketing. "Many people are vitamin D deficient, and mushrooms specially labeled as being high in vitamin D are the only natural food in the produce aisle that may help boost this important vitamin in your diet."
Monterey Mushrooms will have a registered nurse in the company's booth at PMA to educate visitors about the importance of vitamin D for overall well-being. The company is giving its retail and foodservice buyers an at-home test kit that will give users the ability to learn their personal vitamin D level and compare it to healthy ranges.
"Long celebrated as a superfood, fresh mushrooms contribute powerful nutrients to any meal," O'Brien said. "Our message this year is to share how simple it is to incorporate vitamin D into your diet with the help of mushrooms. For example, sautéed mushrooms can be easily added to favorite foods such as avocado toast, steaks, burgers, and salads."