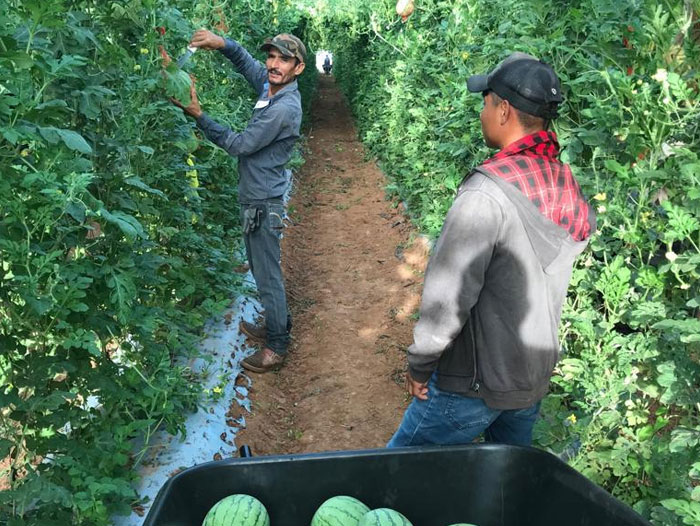 LOS ANGELES, CA – Pacific Trellis Fruit®, the California-based produce company committed to providing the highest quality fruit from around the world via its year-round programs, has debuted its newest innovation-shade house grown Dulcinea® Brand PureHeart® Seedless Watermelon-that never make contact with soil.
Pacific Trellis Fruit®, in conjunction with its long-time grower/partner Agroexport de Sonora, is currently testing a new methodology that involves growing their Dulcinea® Brand PureHeart® Seedless Watermelons on vertical poles inside shade houses instead of in the soil, which is the traditional way of growing watermelons.
Not only does using poles allow for 30% higher yields than traditional grown watermelons, the shade house, which consists of a shade cloth, helps improve their appearance and quality by protecting the watermelons from the harsh effects of the sun, extreme wind and insects.
"By growing our PureHeart® Seedless Watermelons vertically on poles in shade houses we are able to protect them from certain elements which results in higher yields and better quality," said Josh Leichter, General Manager for Pacific Trellis Fruit. "This growing methodology also has a positive impact on the environment since it requires less water and land to grow the watermelons vertically."
Growing watermelons in shade houses also allows for an increase in year round availability. During hot summers, the shade house helps to shield the watermelons and increase their chances of becoming healthy melons. In the winter/colder months, the shade house helps to trap warm air in allowing the melons to keep thriving.
Vertically, shade house grown Dulcinea® Brand PureHeart® Seedless Watermelons are currently in the market in limited quantities.
ABOUT PACIFIC TRELLIS FRUIT®/DULCINEA®:
Established in 1999, Pacific Trellis Fruit® is one of North America's top year-round importers, growers and marketers of premium fresh fruit, including grapes, peaches, plums, nectarines, cherries and citrus as well as pears, kiwis and mangos. With the acquisition of Dulcinea® Farms in 2014, Pacific Trellis Fruit® added mini seedless watermelons, Tuscan Style®
Cantaloupe and yellow mini seedless watermelons amongst other premium melons to its portfolio. Headquartered in Los Angeles, CA, the company also has sales offices in Fresno, CA, Gloucester, NJ and Nogales, AZ. In addition to a robust product portfolio and a global business structure, Pacific Trellis Fruit®/Dulcinea® also supports global environmental and social responsibility programs and is committed to a greener planet by working with growers that are Rainforest Alliance Certified and Fair Trade Certified.