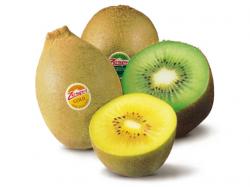 New York, NY — New Zealand ZESPRI® kiwifruit will become available to North American consumers through major retailers for the 2011 season starting mid-May through November.
Kicking off the season with in-store sampling events, display contests and cross-merchandising promotions, as well as the "Getting to Know Your Grower" program, ZESPRI's marketing and promotion efforts will launch for the big summer kick-off Memorial Day weekend.
"We're delighted to be arriving in North America this season with new promotional and marketing campaigns," says Michele Hoard, ZESPRI senior marketing manager North America. "Kicking off with the 'Getting to Know Your Grower' program will really connect consumers with the New Zealand kiwifruit growers, enabling consumers to view growers and their orchards in New Zealand online at zesprikiwi.com."
The growers at ZESPRI have direct investment in ZESPRI kiwifruit, as ZESPRI is a grower-owned cooperative, where growers are invariably dedicated to deliver consumers a sweeter, tastier piece of kiwifruit. Harvesting a minimum brix level of 6.2, the growers ensure that ZESPRI kiwifruit mature appropriately, with a consistently sweet, succulent flavor.
Aside from its sweet flavor, ZESPRI kiwifruit provides a healthy addition to consumers' daily intake of fruits and vegetables. Numerous scientific studies have found that by eating ZESPRI kiwifruit packed with high levels of Vitamin C and carotenoids, consumers will aid their uptake of iron and increase iron stores in the body. Packed with vitamins, fiber and antioxidants, ZESPRI kiwifruit offers big nutrition with each bite.
Fun Fact: A serving of two ZESPRI kiwifruit provides twice the vitamin C of an orange, as much potassium as a banana, and as much fiber as a serving of (unfortified) bran flakes. It also has high levels of folic acid, is a low-fat source of vitamin E and contains less than 100 calories.
ZESPRI
ZESPRI is the world's largest kiwifruit marketer, with over 2,500 growers producing and exporting more than 100 million trays of kiwifruit a year to over 60 countries. ZESPRI is a grower owned cooperative of New Zealand kiwifruit growers, with the aim of ensuring top quality ZESPRI kiwifruit are provided to consumers around the world. For more health information and easy summertime recipes, please visit www.zesprikiwi.com.
Source: ZESPRI