Paramus, N.J. – Gayo Azul announces new and exciting ways to make super summer recipes with Gayo Azul®!  Gayo Azul® cheese is a brand with a rich heritage and a strong Dutch Influence and has been a traditional staple for Caribbean Hispanics for decades.  Growing both its fan base and distribution, Gayo Azul® has a delicious line-up of cheeses that are made with fresh cow's milk and are 100% natural, hormone and antibiotic-free. The Gayo Azul® assortment is sure to please any cheese lover with its versatile cheeses that can be purchased as wedges, chunks,cubes, slices, balls, and wheels. Gayo Azul® can be found at Publix locations.
Gayo Azul® is sure to please every palate and can be used in a variety of different recipes such as exciting cheese plates, appetizers, dips, soups, salads, sandwiches and entrees. This summer add Gayo Azul® cheese to classic dishes such as Quesadillas, Tacos, Enchiladas, Burritos, and Nachos!
"Gayo Azul cheese is perfect for entertaining and creating exciting dishes all summer long," says Jennifer Larsen, Marketing Manager.
Some of the varieties include:
Gayo Azul Dutch Gouda – this versatile cheese is perfect for slicing, shredding, and melting in any recipe.
Gayo Azul Dutch Edam – this cheese is a bit firmer than Gouda, yet has a rich flavor and smooth creamy texture.
Gayo Azul Fresh Queso Blanco – a mild and fresh tasting white cheese that holds its shape when melted and is perfect for grilling. It has a crumbly texture and is great for salads, soups and tacos.
Gayo Azul Sliced Muenster – a delicious cheese that is amazing served hot or cold, on sandwiches or any favorite recipe.
Gayo Azul Sliced Swiss – a rindless, European swiss with perfect eyes and a sweet nutty taste that works on both cold and grilled sandwiches
Get the party started with Gayo Azul Edam Quesadillas and this AMAZING twist on Grilled Cheese!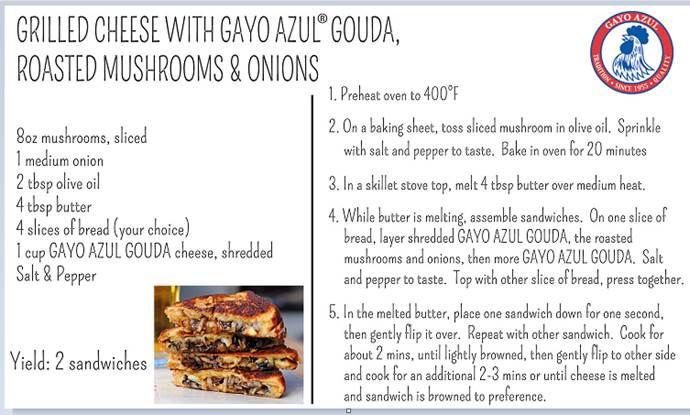 Royal FrieslandCampina N.V.
Gayo Azul is a brand of Royal FrieslandCampina daily provides millions of consumers spread all over the world with dairy products containing valuable nutrients from milk. The products of FrieslandCampina find their ways to over a hundred countries. The company has its Central Office in Amersfoort, the Netherlands. The activities of FrieslandCampina have been divided into four global market-oriented business groups, being Consumer Dairy, Specialized Nutrition, Dairy Essentials and Ingredients. The company is fully owned by Zuivelcoöperatie FrieslandCampina U.A., which has 12,70 member dairy farmers in the Netherlands, Germany and Belgium and is one of the largest dairy cooperatives in the world. For additional information, please visit our website:www.frieslandcampina.com.