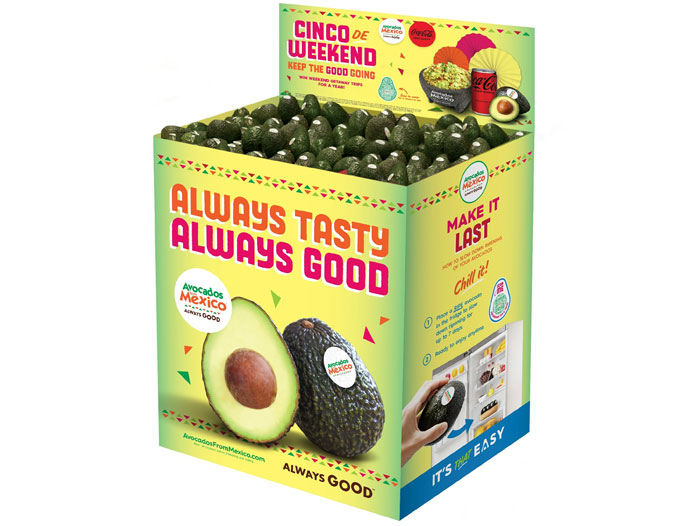 DALLAS — Cinco de Mayo is right around the corner, and no fiesta is complete without a heaping serving of guacamole. In fact, Cinco de Mayo is the second biggest consumption occasion in the U.S. for avocados and guacamole. The number one selling avocado brand, Avocados From Mexico® has partnered with Coke Zero to give shoppers something to guac about all weekend long with the launch of its newest national shopper marketing program. With the holiday falling on a Friday this year, the brand's new Cinco De Weekend campaign provides shoppers ample opportunities to keep the good going all weekend long with big savings and wanderlust-worthy sweepstakes.
The program highlights the delicious combination of Avocados From Mexico and Coke Zero. The two brands are partnering to make shoppers' Cinco celebrations even more exciting with a chance to win twelve weekend getaway trips in a year, valued at up to $30K. The promotion is available from April 10 through May 7, 2023. Shoppers can enter to win via QR codes on the POS displays or by visiting avocadosfrommexico.com/cincodemayo/sweeps/.
"Cinco de Mayo is a great time to celebrate the spirit of Mexicanity, and Avocados From Mexico make everything better," said CEO and President of Avocados From Mexico, Alvaro Luque. "We invite shoppers everywhere to celebrate Cinco all weekend by adding avocados and Coke Zero to their carts, because no Cinco celebration is complete without guacamole."
Avocados are a top food for Cinco celebrations, and as retailers look to increase basket size, they are a worthy product to promote as studies have shown that shoppers spend 1.9x more on groceries when avocados are in the basket.1 Additionally, 71% of Coke Zero buyers also purchase avocados on an annual basis,2 showcasing how this partnership serves to cross-merchandise items shoppers likely already have on their lists. In combining these two brands together, AFM is creating a simple Cinco destination that's a win for shoppers and retailers alike.
"With a strong and steady supply of high-quality avocados coming into the U.S. from Mexico, there will be ample inventory to meet shopper demand during this avo-centric holiday," said Stephanie Bazan, Senior Vice President, Commercial Strategy and Execution. "Retailers can drive conversion of the fruit by placing avocados around the perimeter of the produce section and in other easy-to-see areas with high traffic. Merchandising avocados alongside complementary items – like tomatoes, onions, or Coke Zero – to create 'Cinco De Weekend stations,' makes it easy for shoppers to purchase. Show-stopping displays are also a tried-and-true way to help excite shoppers in-store, and our latest Cinco de Weekend offering is a great choice for this occasion."
Retailers can take shoppers' Cinco de Weekend excitement to the next level by signing up to receive the free Cinco de Weekend attention-getting merchandise displays and Avocados From Mexico and Coke Zero coupons that are available while supplies last. Retailers can also utilize Avocados From Mexico merchandising materials to create a fiesta-themed Cinco event for their shoppers.
To learn more about AFM, visit www.avocadosfrommexico.com, Facebook (www.facebook.com/AvocadosFromMexico) or Twitter (@AvosFromMexico). And, for more details on the brand's robust year-round promotional activities and marketing tools, visit www.avocadosfrommexico.com/shopper.
About Avocados From Mexico
Avocados From Mexico (AFM) is a wholly-owned subsidiary of the Mexican Hass Avocado Importers Association (MHAIA), formed for the purpose of advertising, promotion, public relations and research for all stakeholders of Avocados From Mexico. Under agreements, MHAIA and the Association of Avocado Exporting Producers & Packers of Mexico (APEAM) have combined resources to fund and manage AFM, with the intent to provide a focused, highly- effective and efficient marketing program in the United States. AFM is headquartered in Irving, Texas.
1Numerator Basket Affinity Report, 4/7/22 to 5/4/22
2HAB 2yrs Week Ending 8/14/22 Numerator 4 wks 4/10/22 to 5/7/22, FMCG + E-Com