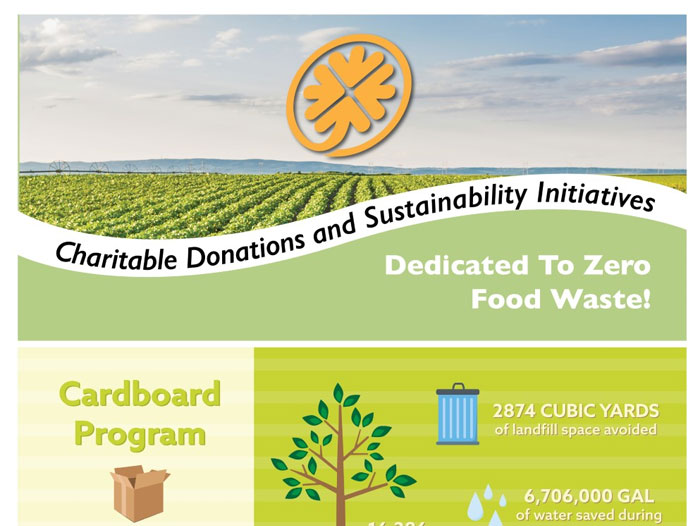 Chelsea, MA – The Arrowfarms family of companies is excited to announce its most recent report of charitable donations and sustainability initiatives. Through donations, recycling and composting, Arrowfarms, Gold Bell, DiSilva Fruit and Morning Kiss Organic are dedicated to sustainability and zero waste.
Charitable donations: So far in 2019, the company has donated over 1.5 million pounds of food to Boston area nonprofits including health centers, veterans centers, Boston Housing senior centers, shelters and churches.
Composting: Since 2016, over 1.7 million pounds of food waste has been diverted from landfills to local farms for composting. This is equivalent of 181 cars off the road.

Recycling: Since 2015, the companies have donated and recycled over 958 tons of paper and cardboard. This accounts for 16,286 trees and six million gallons of water saved, as well as 2,874 cubic yards of landfill space avoided.
"Sustainability is one of the most pressing issues facing the produce industry, says Michael Guptill of Morning Kiss Organic. "It is what led us to develop our Morning Kiss Organic brand of fruits and vegetables over 25 years ago and continues to drive our efforts today."
Guptill continued, "We are excited to see what 2020 and the future brings as we continue to invest in these programs, as well as expand on initiatives with our manufacturing partners to reduce plastic packaging and footprint."

About Our Companies:
Arrowfarms, headquartered in Chelsea, MA is comprised of Arrowfarms, Gold Bell, DiSilva Fruit, and Morning Kiss Organic. Products are available daily and year-round and in a range of customizable formats and unique packaging options offering economical packaging, pricing, faster turns and less waste.