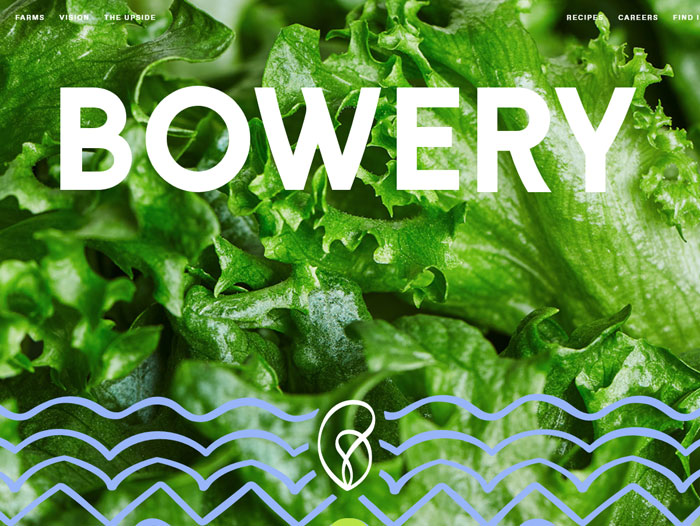 NEW YORK, NY — Bowery, the largest U.S. vertical farming company providing fresh produce to almost 1,900 grocery stores and major e-commerce platforms, today announces a geographical expansion in partnership with Amazon Fresh. This launch will bring Bowery's pesticide-free greens and two flavors of salad kits to more consumers up and down the east coast of the U.S. from Massachusetts to Georgia. 
Bowery is working to secure the future of food, connecting consumers to pesticide-free produce with a focus on bold flavor and ultimate freshness. Bowery's core lettuces, including Baby Butter, Crispy Leaf, Baby Romaine, and Spring Mix, plus two flavors of Salad Kits — Sesame Ginger and Balsamic Vinaigrette — are now available for convenient home delivery via Amazon Fresh.
"Demand for sustainable, pesticide-free greens has never been higher," said Matt Williams, Chief Sales Officer, Bowery. "By taking our partnership with Amazon Fresh to the next level, we're excited to bring our climate-smart produce to even more regions, offering access to more shoppers up and down the east coast."
Bowery greens and salad kits, now including a compostable fork, will be available via 18 Amazon Fresh Fulfillment Centers spread across the east coast. Harvested at peak freshness, Bowery's greens can be delivered to your door within just a few days.
This milestone comes at a pivotal time in the company's growth. In July 2023, Bowery announced a brand evolution that features a fresh creative expression across website design, product packaging, and advertising including unexpected mediums like streaming video platforms. The company increased its retail footprint by over 15x between 2020 and 2023 and continues to pop up in unexpected places beyond retailers such as Citizens Bank Park, the first sports stadium in the country to offer Bowery's salad kits, and sweetgreen locations in the tri-state area, featuring the Bowery bowl.
As it expands, Bowery continues to report industry-leading efficiency gains, including improving the energy efficiency of its farm production by 35% in the last year. Bowery is committed to building a smarter way to secure the food of tomorrow, starting today. 
About Bowery
Bowery, the largest vertical farming company in the United States, designs and builds smart indoor environments to reimagine the future of food. Through its network of smart indoor farms and proprietary end-to-end technology, Bowery is transforming the entire fresh food supply chain to be smarter, safer, and more sustainable. Bowery's farms are 100x+ more productive than traditional agriculture while using a fraction of the resources – all enabled by leading-edge technology.
Bowery is scaling quickly with five farms in operation, including a state-of-the-art R&D and innovation farms for pioneering indoor Agriculture Science, and two commercial farms under development that will more than double the company's total production. Bowery's brand has been in the market since 2016 and is currently sold in almost 1,900 locations including Whole Foods, Ahold Delhaize, Amazon, Safeway/Albertsons, and Walmart.
Bowery is backed by tech and agriculture industry leaders with $647M in equity and debt raised from investors including Fidelity, Temasek, Google Ventures, KKR, General Catalyst, GGV Capital, First Round Capital, and individuals including Jeff Wilke, Tom Colicchio, José Andrés, and David Barber of Blue Hill.