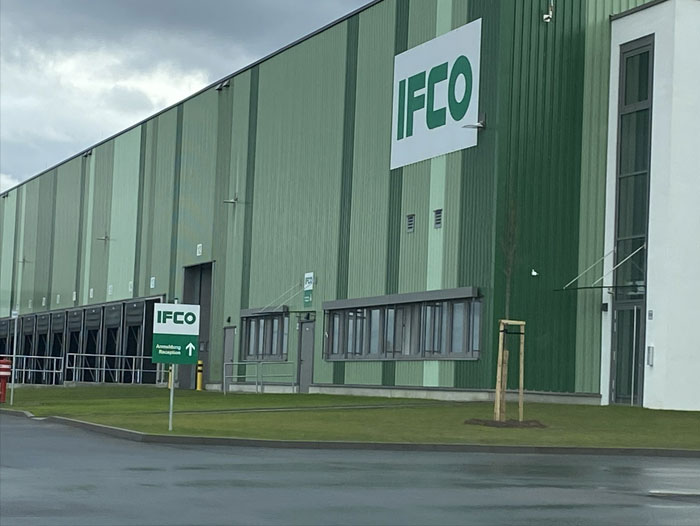 MUNICH — IFCO, the world's leading provider of Reusable Packaging Containers (RPCs) is strengthening its sustainability credentials and expanding its pooling capacities with the opening of the company's state-of-the-art service center in Dannstadt, Germany. Strategically located in a central transportation hub for Europe, the best-in-class service center sets impressive standards in terms of energy-efficiency, conservation and sustainability measures that are in line with IFCO's ambitious goals to be carbon neutral in operations by 2025 and to reach net-zero emissions across the whole business by 2040. 
The high-tech facility was awarded the gold certification for green buildings from the German Sustainable Building Council (Deutsche Gesellschaft für Nachhaltiges Bauen), which is internationally recognized as an independent global benchmark for sustainability. The Dannstadt service center is therefore designed and ideally situated to serve customers who are committed to reducing the environmental impact of their end-to-end supply chain operations and targeting Scope 3 emissions, those indirect emissions that occur in the upstream and downstream activities of an organization, such as packaging and transportation.
In terms of automation and digitalization, the Dannstadt service center is one of the most modern and technologically sophisticated facilities of its kind in Europe. Equipped with an automated sorting and crate recognition system, the entire high-pressure wash and sanitization process is fully automated and designed to handle and sort all sizes and types of IFCO RPCs. In addition, the established IFCO SmartCycle wash process maximizes water reutilization while meeting global standards for hygiene and food-safe packaging. The process, which is validated both by IFCO and independent third-party food safety experts, removes approved customer labels efficiently and reliably.
Dirk Schaich, Director IFCO Supply Chain & Operations, said, "The new facility will benefit customers on multiple levels. The Dannstadt area is one of the largest agricultural regions in Germany and is ideally positioned to optimize transport routes to serve our retail partners in the southwest of Germany. Additionally, by inspecting, repairing and sanitizing our RPCs in this state-of-the-art service center, we will serve our customers with reusable packaging in the most sustainable way."
Following IFCO's ESG strategy to thrive in the circular economy by further building on the circular principles of its business model and achieve ambitious goals to become even more sustainable, the site was designed and developed with the local community and natural eco-system in mind. As well as fostering employee wellbeing, the park-like design, wildflower meadow and natural pond offer a haven for native birds and local wildlife. Eco-friendly permeable paving rounds off the future-oriented design. Health and safety are paramount, which is why the site is equipped with a high-tech fire safety and sprinkler system.
In addition, the roof features greened areas and is fitted with a photovoltaic system that supplies power to the building, which is also equipped with modern underfloor heating and LED lighting. A heat-and-power plant feeds energy to a resource-efficient air-to-water heat pump, which powers the washing machines and heats the water used in the wash center. This innovative concept allows IFCO to reduce gas consumption and the associated CO2 emissions by close to 23% compared to a standard service center in Europe.
"This flagship service center underscores IFCO's commitment to provide the most comprehensive, sustainable and efficient reusable packaging which enables our customers to actively participate in the circular economy. This is how we make the fresh grocery supply chain sustainable," said Mike Pooley, IFCO CEO.
Additional information
IFCO is the leading global provider of reusable packaging solutions for fresh foods, serving customers in 50+ countries. IFCO operates a pool of over 370 million Reusable Packaging Containers (RPCs) globally, which are used for 2 billion shipments of fresh fruits and vegetables, meat, poultry, seafood, eggs, bread, and other items from suppliers to grocery retailers every year. IFCO RPCs ensure a better fresh food supply chain by protecting freshness and quality and lowering costs, food waste and environmental impact compared to single-use packaging. More: www.ifco.com | Follow us on LinkedIn @IFCO SYSTEMS