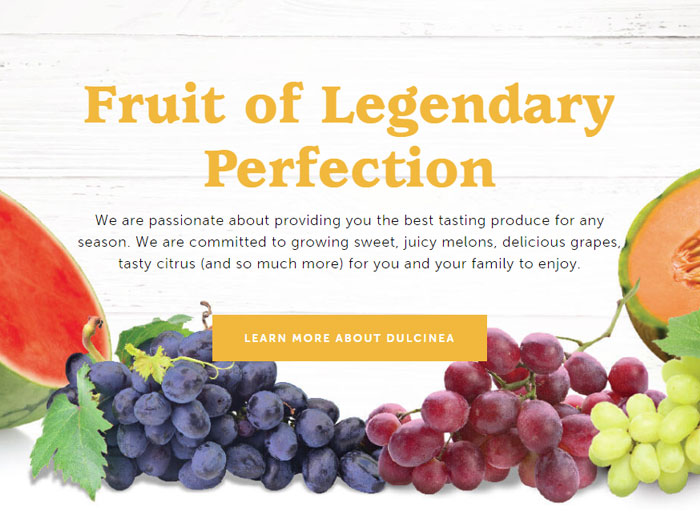 LOS ANGELES, CA – Pacific Trellis Fruit®, the California-based produce company committed to providing the highest quality fruit from around the world via its year-round programs, debuted its newest product line, Dulcinea® Brand Premium Seedless Grapes, at the 2019 PMA Fresh Summit Convention & Expo in Anaheim.  
Dulcinea® Brand Premium Seedless Grapes are packed to extremely high specifications in terms of brix, size and color, making them bigger, juicier and sweeter. As such, Dulcinea® Brand Premium Seedless Grapes offer consumers a superior eating experience consistent with what they have come to expect and trust from Dulcinea® Melons.
Our growing partners are working hard to bring an exceptional product to consumers," said, Marcial Hernandez, Director South American Imports. "We recently had the opportunity to visit the farms in three major growing regions in Peru and not only did the fields look fantastic, but we also had the opportunity to learn more about their new practices for quality, food safety, and traceability."
Available in red, green and black seedless varieties, Dulcinea® Brand Premium Seedless Grapes also offer retailers the simplicity of PREMIUM grapes under the Dulcinea® Brand instead of a specific variety focus. "Retailers and consumers are looking for consistent high quality red, green and black grapes regardless of time of year or country of origin." said Josh Leichter, General Manager for Pacific Trellis Fruit. "By setting a premium specification for the grapes regardless of origin or variety that will be packed in the Dulcinea brand, we feel we can simplify things for retailers and consumers".
As a first year roll-out, limited quantities of Dulcinea® Brand Premium Seedless Grapes will be available starting in December packed in random weight bags or fixed weight packages with an eco-friendly, paper bag alternative also in development. Pacific Trellis® Fruit/ Dulcinea® existing line of products are available at select grocers, specialty health markets and club stores nationwide.
ABOUT PACIFIC TRELLIS FRUIT®/DULCINEA®:
Established in 1999, Pacific Trellis Fruit® is one of North America's top year-round importers, growers and marketers of premium fresh fruit, including grapes, peaches, plums, nectarines, cherries and citrus as well as pears, kiwis and mangos. With the acquisition of Dulcinea® Farms in 2014, Pacific Trellis Fruit® added mini seedless watermelons, Tuscan Style®
Cantaloupe and yellow mini seedless watermelons amongst other premium melons to its portfolio. Headquartered in Los Angeles, CA, the company also has sales offices in Fresno, CA, Gloucester, NJ and Nogales, AZ. In addition to a robust product portfolio and a global business structure, Pacific Trellis Fruit®/Dulcinea® also supports global environmental and social responsibility programs and is committed to a greener planet by working with growers that are Rainforest Alliance Certified and Fair Trade Certified.