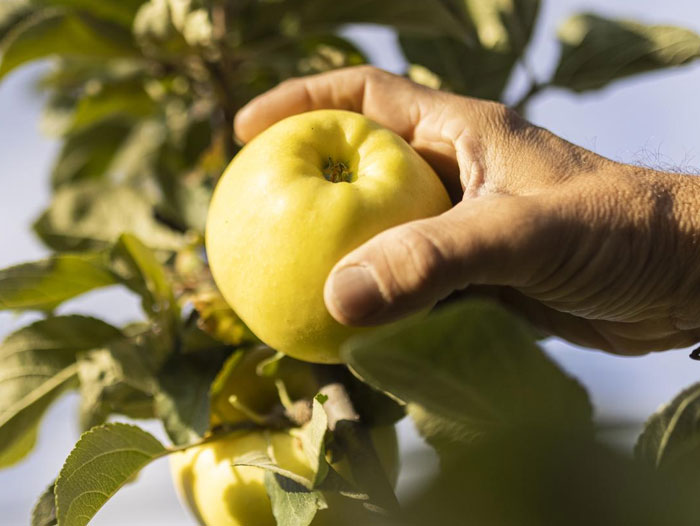 The VOG and VIP Consortia specialty is available again: the sales season kicked off in late October with an encouraging outlook.
Terlano – The wait is over for apple connoisseurs: yello® is back on the markets. The specialty in the yellow-skinned segment produced by the VOG and VIP Consortia began sales on 31 October with a slight increase in product availability and fruit in excellent condition.
From a sales standpoint, the outlook is encouraging. "Thanks to its excellent sensory characteristics, yello® has won a loyal audience among apple specialists and discerning consumers," comment Klaus Hölzl, VOG Sales Manager, and Fabio Zanesco, Contract Variety Manager at VIP. "Market demand is promising in Italy, as well as in other European and non-European countries."
Those who like yello® appreciate its exotic aroma, inviting alabaster-yellow colour and fine, crisp flesh, features that make it a novelty for the segment. Its history also makes it unique: born and discovered in the foothills of the Hida Mountains, also known as the "Japanese Alps", it arrived in the valleys of South Tyrol – Südtirol thanks to the experience and skills of South Tyrolean fruit farmers who are part of the VOG and VIP Consortia. A must-try fruit for all apple lovers!
Originally from Japan, yello® is the Shinano Gold variety apple, a cross between Golden Delicious and Senshu.
The exclusive worldwide production and marketing licence belongs to VOG, the Consortium of South Tyrolean Fruit Growers' Cooperatives, and to VIP, the Association of Val Venosta Fruit Growers' Cooperatives.
Distinctive for its unmistakable yellow skin, crispy flesh and high Brix value, the apple first hit the market in 2016. It stands out for its excellent shelf life and highly consistent quality.