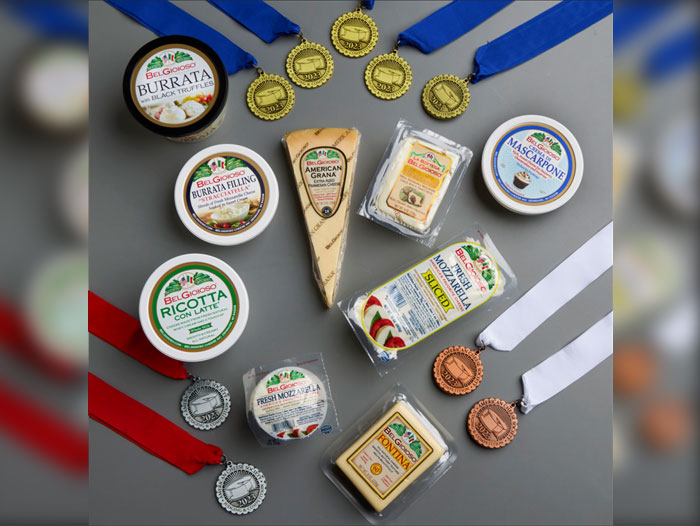 (Green Bay, Wis.) – Wisconsin based BelGioioso Cheese won nine prestigious medals at the American Cheese Society's 2023 Judging & Competition ceremony on July 19th, held during the 40th annual conference in Des Moines, Iowa. The contest was competitive with 1,453 entries from 195 different cheesemakers, the largest event of its kind for American-made cheeses. BelGioioso Cheesemakers took home top honors with first place gold medals for their Black Truffle Burrata, Stracciatella Burrata Filling, Crescenza-Stracchino™, Crema di Mascarpone and American Grana®.
Second-place silver medals were awarded to BelGioioso Fresh Mozzarella and Ricotta con Latte and third-place bronze medals to Fresh Mozzarella and Fontina.
"Our Cheesemakers are honored and excited by the back-to-back first place awards for Crescenza, Burrata and Mascarpone." said Gaetano Auricchio, President, BelGioioso Cheese. "Three very different fresh cheeses made in three different plants by passionate Cheesemakers who love their craft."
BelGioioso Crescenza-Stracchino™ is hand-crafted in small batches, with an abundant amount of hands-on care to create a soft, spreadable cheese that offers a milky flavor and tender texture. "Chefs recognize the versatility and quality of our Crescenza, its creamy, rich texture brings a signature flavor to their pizzas, flatbreads and appetizers," said Gaetano Auricchio. "Fresh cheeses like Burrata, Mascarpone, Fresh Mozzarella and Ricotta are really having a moment. Chefs and consumers are discovering our clean, fresh flavors and they recognize that quality is exactly what BelGioioso delivers."
Nine prestigious medals were awarded to the following unique cheeses that BelGioioso specializes in:
1st Place Gold Medal – BelGioioso Crescenza-Stracchino™, Crema di Mascarpone™, Stracciatella Burrata Filling, Black Truffle Burrata & American Grana®
2nd Place Silver Medal – BelGioioso Fresh Mozzarella & Ricotta con Latte®
3rd Place Bronze Medal – BelGioioso Fontina & Fresh Mozzarella
BelGioioso Cheese is a family-owned and operated company specializing in artisan Italian cheesemaking. Using natural ingredients and fresh, local Wisconsin milk, Master Cheesemakers hand-craft a full line of exceptional cheeses guided by a commitment to quality and a respect for tradition.
At BelGioioso, every cheese is a specialty. www.belgioioso.com