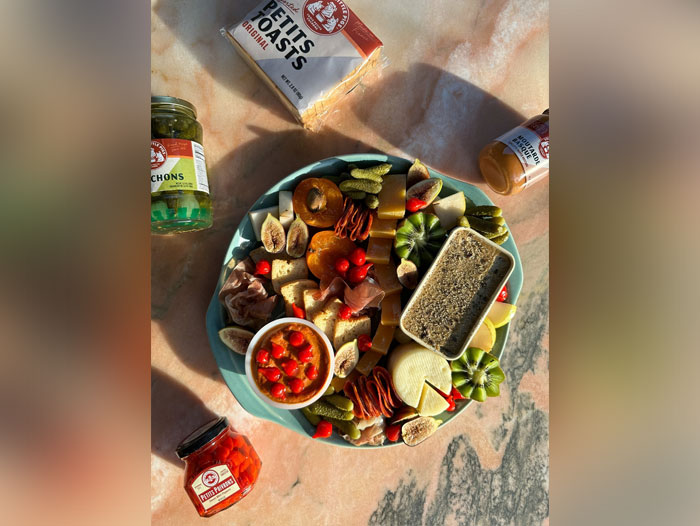 NEW YORK — Three Little Pigs, the award-winning handcrafted French charcuterie brand, today announced it has teamed up with grazing table and charcuterie board expert and founder of Humble Board, Emili Krzyzanowski, to launch a curated charcuterie sampler. Krzyzanowski started out making boards for friends' parties, family weddings and small gatherings in Tucson, Arizona and now shares her crave-worthy charcuterie creations with her nearly 200 thousand followers on Instagram @humbleboard.
Three Little Pigs first started out as a small deli, known as Les Trois Petits Cochons, in 1975 specializing in charcuterie in Greenwich Village in New York City. While Three Little Pigs has since closed up the deli to focus on expanding production throughout the country, the brand still serves up the same great tasting products made in small batches at thousands of retailers nationwide and online.
In keeping with the brand's dedication to the finest ingredients and time-honored recipes, the new Humble Board Charcuterie Sampler includes Krzyzanowski's selection of her favorite Three Little Pigs items including Chorizo, Traditional Cornichons, Moutarde Basque, Organic Petit Toasts, Prosciutto, Petit Poivrons and Mousse du Périgord.
"This sampler has all of my go-to Three Little Pigs items and it's the perfect curation of flavors to build an incredible platter or board for enjoying with friends and family," says Emili Krzyzanowski, founder of Humble Board. "Add in a favorite cheese and fruit and the combinations of flavors and textures are endless."
For those who like to curate their own boards, Three Little Pigs has also just launched a new handcrafted, dry-cured, pre-sliced Charcuterie Trio including the brand's Prosciutto, Soppressata and Pepperoni meats. The convenient variety pack is the perfect addition to sandwiches or pizza, and can be paired with cheeses, olives and bread for a delectable snacking board for any occasion.
"For nearly 50 years Three Little Pigs has been offering quality and flavorful handcrafted products made in small batches, and this new Charcuterie Trio is no different," said Claudia Dionne, Marketing Brand Manager at Three Little Pigs. "From a snack on-the-go to a photo-worthy charcuterie board, the Charcuterie Trio is part of our expansive line of delicious offerings to help consumers make meal and snack time feel both gourmet and accessible."
The Humble Board Charcuterie Sampler retails for $49.99 and is available online for shipping nationwide while supplies last. The 6oz. Charcuterie Trio retails for $12.99 and is available online for shipping nationwide.
For more information as well as recipes, charcuterie tips and food and beverage pairings, visit 3pigs.com.
About Three Little Pigs
Three Little Pigs is on a mission to create more enjoyable, everyday moments through casual, well-made charcuterie that is as fun and easy to enjoy as it is high-quality and delicious. Since 1975, it has become one of the most awarded specialty food companies in North America, winning critical acclaim and 21 national food awards. With a commitment to making all-natural products using quality ingredients in time-honored recipes, free from artificial ingredients or preservatives, Three Little Pigs offers a range of French charcuterie and snacks that are as gourmet as they are accessible.