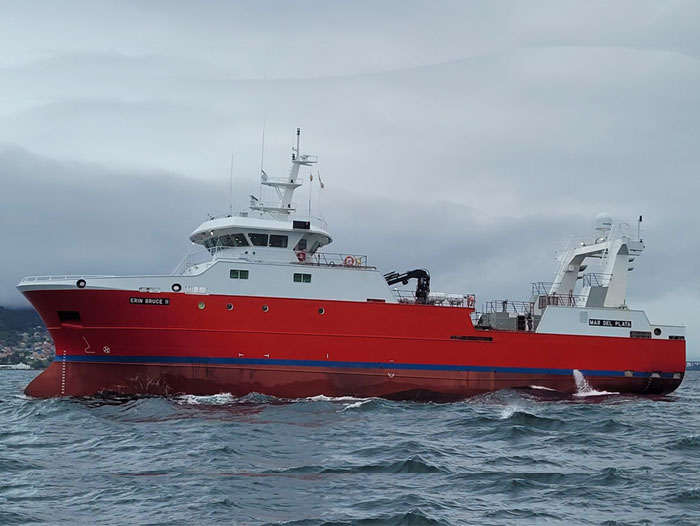 (Vigo, Spain) – Wanchese Argentina, a subsidiary of Wanchese Fish Company, has christened its new Argentine scallop vessel, the Erin Bruce II, at a ceremony in Vigo, Spain. It is the biggest new build of a factory freezer trawler in the Argentine fishery and the first to be constructed specifically for the scallop fishery. The vessel will set sail for Argentina shortly and is expected to be in operation in Argentine waters in the first quarter of the 2024 season.
"This new vessel is designed to be fuel efficient, offer modern accommodations for the crew, and leverage new technology and equipment to find new efficiencies in our harvesting and processing," said Ross Butler, CEO of Cooke Seafood USA. "We are excited to welcome the Erin Bruce II to our fleet and we will continue to replace and modify vessels in the coming years as part of our ongoing renewal plan."
The Erin Bruce, built in 1978, was the first and pioneer vessel in the Argentine scallop fleet. The new vessel, built by Astilleros Armon shipyard in Spain, will honour the name and continue the legacy of the original.
To read the rest of the story, please go to: Cooke