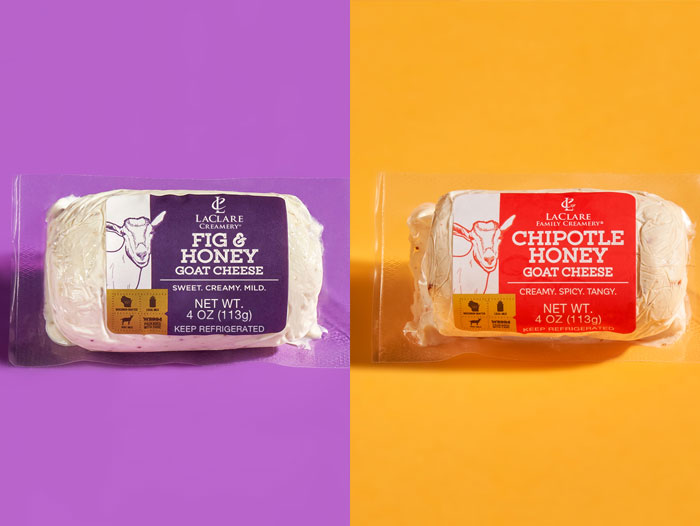 MALONE, Wis. – LaClare Creamery celebrates two first place medals at this year's American Cheese Society Competition. One first place award went to LaClare's Fig & Honey Goat Cheese in the 'Fresh Goat Cheese with Sweet Predominant Flavor' category, and the other to their Chipotle Honey Goat Cheese in the 'Fresh Goat Cheese with Savory Predominant Flavor' category.
The largest event of its kind for American-made cheeses, judging for the ACS Competition took place May 15-19, with winners announced during the 40th Annual ACS Conference at the Iowa Events Center on July 19.
"The entire LaClare Creamery team is thrilled to see this honor bestowed upon both our Fig & Honey Goat Cheese and Chipotle Honey Goat Cheese," said Patrick Considine, national sales director at LaClare Creamery. "Just back in March, our Fig & Honey Goat Cheese received first place at the 21st biennial U.S. Championship Cheese Contest, so seeing that our cheeses continue to get recognized as best-in-class across the dairy community affirms the value of our team's hard work and dedication to fresh, clean flavors."
A snapshot of LaClare's first-place flavors:
· LaClare's Fig & Honey Goat Cheese consists of a luscious blend of natural sweetness from succulent figs and golden honey, combined with the creaminess of LaClare's Original Goat Cheese. Each bite delivers a perfect balance of sweet and rich notes, creating a truly irresistible taste sensation.
· Likewise, LaClare's Chipotle Honey Goat Cheese starts with LaClare's Original Goat Cheese and combines the natural sweetness of honey with the subtle heat of chipotle peppers. This mix results in a delightful fusion of sweet and smoky flavors complemented with a spicy burst.
The ACS Awards are given to cheeses and cultured dairy products that achieve high technical excellence and exhibit the highest aesthetic qualities. The ACS Judges consist of various food professionals carefully selected from academia and the dairy sciences industry, as well as culture manufacturers, food retailers, distributors, and members of the food media. Growing from just 89 entries 37 years ago, the 2023 ACS competition received 1,454 across 120 categories.
To see the complete list of 2023 ACS Competition winners, visit https://www.cheesesociety.org/competition-winners.
With respect to sustainability, transparency, and tradition, LaClare creates unrivaled cheese products to please palates with clean, fresh flavor profiles that cannot be imitated. For additional information, visit laclarefamilycreamery.com.
About LaClare Creamery 
LaClare traces its roots back to 1978. It has positioned itself as one of the 100% domestically produced goat cheese brands in the country. Our direct and local Wisconsin milk supply lets us set the standard for goat milk dairy products with a full line of award-winning specialty cheeses and fresh fluid goat milk. The business has received numerous national and international awards for its innovative and quality products. Learn more at https://www.laclarefamilycreamery.com